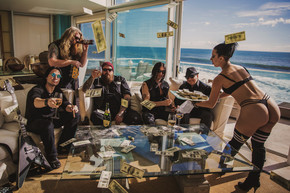 Legendary Southern California Industrial Metal group Society 1 has signed a deal with DSN Music to release their upcoming album Rise From The Dead, scheduled to release this March. Society 1, which was founded in 1996 by the infamous Lord Zane on lead vocals, also features veteran guitarist Maxxxwell Carlisle, bassist Dirt Von Karloff, and drummer Iorden Mitev.
"It feels good to be back at it again, like an old lover who fucked you better than anyone before or after" said Zane during a decadent signing party at the DSN Music complex in Malibu, CA. "Everyone has those moments when you resurrect and reinvent. This album Rise From The Dead is one of those moments."
The comeback for Zane follows a hiatus during which he established a successful Hollywood career as a music video director, working on projects with such acts as Zakk Wylde, John 5, DMC, Wayne Static, and Orgy.