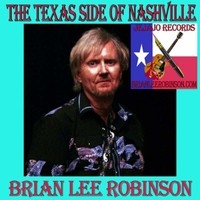 Brian Lee Robinson sings the tried and truest of country on the Americana blues of "The Texas Side Of Nashville". Arrangements are done just right with the perfect twang, a gentle kind of rhythm that helps to guide the songs forward. Easily the highlight of the collection are the highly articulate lyrics which show off an impressive knack for storytelling. Front and center the vocals have a world-weariness to them as if each one of these songs reflects upon a life most fully lived, with all the ups and downs that a life can bring.
Setting the tone for the collection is the domestic framing of "That Old Cat". Brian Lee Robinson reflects upon the sweetness that pets can bring to even the most downtrodden, for pets require nothing more than a little care. "The Gone Side of Goodbye" shows off Brian Lee Robinson's gorgeous baritone. A languid rhythm adds to the introspective approach of the piece as it grows ever so slowly. Little flourishes, like the piano and guitar gestures, add to the sense of power. Rather tender in tone is the heartfelt work of "Beauty or Illusion". Easily the highlight of the collection "Beauty or Illusion" lingers in the mind long after the song has ended. Bringing the collection to a close is the humorous work of "Go Fat and Go Ugly Early".
Offering up a fully-formed country sound with captivating stories, Brian Lee Robinson's "The Texas Side Of Nashville" is as honest as music gets.
www.brianleerobinsonmusic.com/
By – beachsloth.com