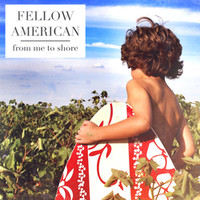 Fellow American creates a bright summery sound with the optimistic pop of "From Me to Shore". Sung with a sense of play and tenderness the vocals are by far the highlight of the collection. Quite honeyed in scope the choral arrangements at times recall the joy that marks the best of the Beach Boys. The baroque pop arrangements have a celebratory air to them. Melodies shine through with a blissful quality to them as they embody all that the best of pop represents.
"Monkey in the Middle" starts the collection off on a jaunty note. Guitars glisten. The blissful atmosphere feels so lush. Upon the rhythm section starting off the song is driven forward with great passion. Ukulele introduces the child-like wonder of "West". Vocals embody celebration and the lyrics reinforce this as they opt for a wanderlust, one to search and discover somewhere new. Stripping the sound down to the essentials is the intimacy of "The Current" which at times recalls the best of the Fleet Foxes. Starting the song off with a mellowed attitude akin to Beach House is the reflective work of "Black Ice". Slowly but surely the song builds itself up into a true force of nature as the rhythm becomes all-encompassing. Closing the collection off on a high note is the spirited "Play God".
Smart, stylish and with a timeless quality Fellow American's "From Me to Shore" offers up a unique charming sound, one gracious and graceful.
http://fellowamericanmusic.com
By – beachsloth.com