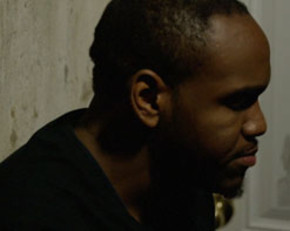 It was one year ago that we introduced programmers and viewers to a Queens-based emcee named Germain. A rock steady demeanor and laser focus on his craft made him a formidable entry into the hip-hop world. His debut video for "Up All Night" was a no-frills metaphor for the endless hours he has dedicated to his skills and the feedback was tremendous, including a spot in mtvU rotation!
http://www.facebook.com/GermaingiegoMusic/
It wasn't long before Germain was back in the lab creating his next jam, "Propheteer," which once again harnesses a mid-tempo backbeat and minimalist, precision production. With the palette set, Germain paints a calligraphic picture of a life spent sleeping with one eye open and being able to see around the next corner. These visions might be terrifying to some, but Germain takes this power and uses it to better himself and to be sure that when his time comes he is on the right side of judgment.
With the help of his partner in crime, director Wes Darbouze, Germain has taken the spellbinding vision of "Up All Night" and paired it with an ominous message in the brand new video for "Propheteer." The video follows the escapades of Germain and two of his closest confidants as they engage in a high-risk, high-reward game of grand larceny.