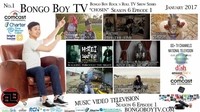 Bongo Boy Rock n Roll TV Show series Season 6 episode 1 "Chosen" airing January 2017 on National TV across The USA. Music Video Television for Indie Musicians.
Opening things up with a sense of the theatrical is Kristine Mirelle's "Freakin' Mess". Sung with true grace and style the song has a playful quality to it. With a memorable melody, the song is infectious to its very core.
Raftree dives deep into the joy of early 90s alternative rock with the absolutely astounding "All The Time". Nimble guitar work has a grunge vibe to it as it helps serve the elastic groove. By far the heart of the song are the commanding vocals which drive the song forward.
Blues and R&B come together in a beautiful way with Rosalee's passionate "Hmm". The song has a timeless classic quality to it with crisp production and insistent guitar riffs. Guitars drive her message home in the best way possible, as it lets a little bit of funk into the flow.
Stark and with a stripped-down style, Hotei's "Walking Through The Night" has a martial rhythm to it. Reminiscent of Iggy Pop's proto-punk work with the Stooges, the song hits hard. Incredible soloing guitars add to the wild unhinged spirit of the song.
Anana Kaye & Iraki Gabriel's "Ain't Dead Yet" possesses a driving rhythm that dominates the song. Sounding like a female variation on the burnt-out psychedelic pop leanings of the Doors, the song's western twang works wonders. Intimate and direct the song's jaunty groove adds to its golden era of rock n' roll sound.
Optimism pours out of the joyful celebration of Cassani and Waheed Ahmed's "Shine". Reminiscent of A Tribe Called Quest's social justice inspired lyricism, the song's hope defines it. Catchy to a tee the song is simply unforgettable.
Deborah Henriksson's "Breakers' Roar" opts for a Celtic folk-inspired sound. Quite poignant in scope the song has a pastoral quality to it. The sweeping style adds to its true sense of grace.
Also, please mark your calendar for your date with Bongo Boy as you are invited to our 7th Annual party bash – April 2 2017 at Roxy and Dukes Roadhouse. Dunellen, NJ Party starts at 3PM.
By – beachsloth.com