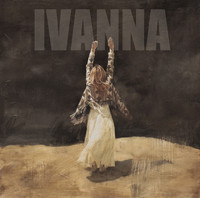 Sung with true passion, IVANNA's "Leaving Town" is a defiant, exuberant album. Vocals soar above tapping into a sense of wonder with the world. Effortlessly tying together folk, rock, and pop into a singular whole the album is simply stunning. Best taken altogether the songs display IVANNA's potent storytelling abilities. Over the course of the album IVANNA creates a coherent narrative, one that searches for something bigger, greater, and more meaningful. How IVANNA lets these songs build up feels particularly masterful. By creating such vivid soundscapes, the songs teem with life.
The album starts off strong with the passionate performance of "Disease". Diving deep into the cyclical style of the song it grows in strength with each reiteration. By far the highlight of the album is the sprawling ambitious work of "Fight Fire With Fire". Everything is brought together in a most excellent way on this piece, from the nimble guitar work to the harmonica which graces the song. Angelic in its approach is the tender work of "My Love". Rather forceful in nature is the anxiety of "Money". Quite playful in tone is the jaunty rhythms of "Tuesday". Another highlight appears on the lovely theatrical work of "The Broadway Show". Featuring an intricate melody is the ornate work of "Stalker". Ending the album off on a high note is the introspective work of "The City".
"Leaving Town" shows off IVANNA's undeniable chops and perfection of deep insightful pop.
https://www.facebook.com/ivannasweden/
By – beachsloth.com