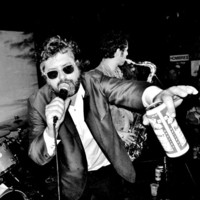 Texas-bred John Wesley Coleman, a self-identified "trash poet", has tirelessly worked at building a reputation for himself as one of the preeminent performers/songwriters on the indie scene since the 1990's. He's, arguably, made his deepest impact on the scene thanks to his role with the popular garage rock band The Golden Boys, but numerous solo efforts and collaborations have further burnished his standing as one of the brightest talents in that world. As he's progressed, however, Coleman's talents seem to be stretching out in even broader ways and achieving a greater overall coherency than ever before. Much of this can likely be explained by life changes prompting artistic growth, such as becoming a father for the first time, and branching out in unexpected ways like the 2007 release of American Trashcan, a combination poetry collection/music release. This artistic movement reaches its current apex with the upcoming release of Microwave Dreams.
FACEBOOK: https://www.facebook.com/johnwesleycoleman/
"Shovel" opens Microwave Dreams with an impassioned stomper driven by high-strung, slashing guitars and a just-urgent-enough vocal from Coleman to push it over the top. There's a lot to praise in Coleman's writing – he shows real facility for writing about themes common to singer/songwriters in a fresh, individualistic way. He ties some strong imagery in with the song title and the suggested personal aspect of the lyric is undeniable. "On the Couch Again" unexpectedly begins with a sustained, droning series of organ notes before segueing into a acoustic quasi-shuffle spiked with some interesting electronic flourishes and recurring contributions from the organ. Coleman's songwriting imagination is bottomless; he turns this bit of slice-of-life songwriting into something hinting at the surrealistic. "Hang Tight", much like the opener, kicks off with a furious percussion stomp. This is Coleman in full out rock mode and the song eschews any of the arty pretensions bleeding in along the edges of "Shovel". The languid swing of the improbably named "Jesus Never Went to Junior High" deliciously imitates a quasi-classic rock and roll sound, complete with piano and growling saxophone, but Coleman's school daze skews the formula and the lyrics are nothing like what your parents or grandparents heard.
There's a off-kilter country music ramble to "Black Kite" cut with a sprightly pop bounce sure to draw many listeners in. The vocal isn't quite as plaintive as the earlier songs get, but shares the musical vibe. There's some wonderfully woozy guitar work to close it out. "Exotic Tambourine" has a great uptempo stride, some great transitions, and even a smattering of backing vocals. The band plays confidently and with great gusto, but the looseness doesn't mean they fail to hit a single mark. This is the sound of ever-intangible chemistry in action. "Mama, I'm a Big Boy Now" is a slowly unwinding piano driven ballad with nicely complementary drumming, distinctive lyrics, and some ominous swells of guitar bulging from the mix in the song's second half. Microwave Dreams ends with the stunner "We Care About Love". Coleman's piano lines swirl with such rhythmic flair that it almost seems anti-climatic when the classic four-on-the-floor drum beat comes in to meet him. This is part pure rock and roll boogie, part pastiche, a lyrical gem, and ultimately just some straight up first class songwriting. No matter how stripped down and pared to its essence John Wesley Coleman III's music might sound on a first or second listen, Microwave Dreams is an album you need to keep diving back into again to find the fullest of its rewards.
9 out of 10 stars.
TWITTER: https://twitter.com/jwc3texas
Jason Hillenburg