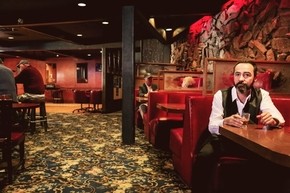 Following their warmly received Halloween gift to fans in the form of "Dead Alive", The Shins are pleased to announce the release of their fifth studio album, Heartworms. The album will be released on March 10th via Aural Apothecary/Columbia Records.
In contrast to 2012's Port of Morrow, which debuted at #3 on the Billboard Top 200 and was nominated for a Best Alternative Album GRAMMY, Heartworms ushers in a return to the handmade. Heartworms is, as always, entirely written by James Mercer. However, with the exception of "So Now What" (produced by Richard Swift), Heartworms is the first Shins album to be self-produced by Mercer since Oh, Inverted World in 2001.
Heartworms features Mercer's most diverse lyrical palette to date: From fictional character sketches ("Fantasy Island," "Rubber Ballz"), autobiographical accounts ("Mildenhall"), to first single "Name For You," a resounding call for female empowerment inspired by Mercer's three daughters. Watch the lyric video here.
Photo by Nikki Fenix