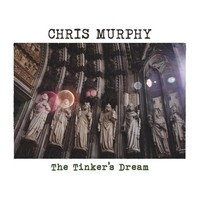 2016 has been an insanely productive year for musician, songwriter, and singer Chris Murphy. He released two full length studio albums between May and August and now follows those substantial efforts up with his third full length album in nine months. It is natural to assume that Murphy's latest release might be the weakest of the trio thanks to the massive creative effort he's put forth in less than a year. Such assumptions are wrong. The Tinker's Dream features a dozen songs centered on Murphy's signature violin playing, but incorporating a number of other instrumental voices to help realize his artistic vision. He has enlisted a talented cast of collaborators to aid his efforts and, thanks to this confluence of talent, The Tinker's Dream enjoys an uncommonly wide emotional range and has an uncanny skill for referencing the past through music while still staying firmly grounded in the present through both production and musical complexity.
URL: http://chrismurphymusic.com/music/
It opens with great energy. "Connemara Ponies" has cinematic sweep embodied in musical form. The gentle rising of this instrumental never overwhelms the listener but, instead, scoops them up and carries them along with great style. "Union of the Seven Brothers" is an instrumental as well, but it has a much more pensive and muted line of attack than the opener. The album's title track has much of the same quasi-Celtic flavor heard in the earlier songs and continues the run of instrumentals beginning the album. The album's first number with vocals and lyrics, "Wicklow", pulls back from the world music influences of the earlier songs and, instead, embraces a clear classic country vibe. Murphy's voice is quite strong for this material, but it's the discernible hint of the blues in his vocals that really makes this song work as well as it does. "Cape Horn" is primarily propelled by Murphy's fluent and often scintillating violin work, but there's layers of musical goodness here for listeners to uncover. The guitar playing is another big reason for the song's success, but it isn't obtrusive. Murphy's lyrics do an excellent job of invoking a traditional feel while still occupying a modern context.
Guitar dominates "Small Wonder" much more so than the earlier songs, but Murphy's violin never disappears entirely. This is another song features words and vocals and it has a noticeable aura of melancholy that Murphy's violin underscores. His touch remains light, however, and the song gains much from that consideration. "The Tower" is another fine instrumental that gains a lot from its obvious restraint and stripped back musical approach. Murphy's violin shares time with some more stellar guitar work on the album's finale "The Hayloft Waltz". It's a moody closer, definitely colored with some darker emotional shades, but it resolutely keeps its focus on melody above all else and brings The Tinker's Dream to a memorable and substantive end. Chris Murphy's productivity doesn't mean that he's just churning out tunes. There's tremendous artistry at work on The Tinker's Dream and his longtime fans will find much to admire here while new listeners will likely be entranced by the album's unquestionable beauty.
9 out of 10 stars.
TWITTER: https://twitter.com/chrismurphmusic
Jason Hillenburg