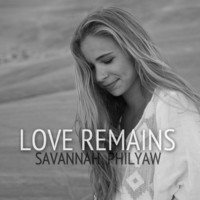 Sung with true gentleness is Savannah Philyaw's tender love ballad "Love Remains". With a delicate arrangement, the way the song unfolds gives it an earnest, intimate spirit. By opting for such a soft-spoken approach the lyrics carry great power. The unifying moment of the track is Savannah Philyaw's articulate storytelling, one which serves as the song's center. Vocals are easily the highlight of the song as her voice is extraordinarily expressive, with the light touch of the guitar works wonders.
Airy acoustic guitar opens the song on a dreamy note. From this beginning a naturalistic, loose rhythm begins to emerge. Everything feels so wonderful as the way the song gradually builds up. The way that an entire life is expressed over the course of the piece feels particularly profound. Like the way a person looks back upon their life, all the happiness and sadness is quite fantastic. How a friendship grows can be such an incredible thing to behold. With every additional detail Savannah Philyaw delves headfirst into the motivations that bring people together. Sometimes togetherness can be quite difficult. As she sings over the rather warm arrangement the way that relationships can blossom varies. With age, people grow apart but they can also come back together again. Eventually a person realizes exactly at what point in their life they require someone else, someone that gave them such comfort and happiness in the past.
On "Love Remains" Savannah Philyaw explores the importance of having someone there, a support network.
https://www.facebook.com/savannahphilyawmusic/
By – beachsloth.com