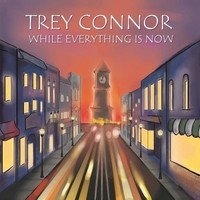 Detroit born and bred singer, songwriter, and guitarist Trey Connor began performing publicly at the age of thirteen and debuted with the band Bulletproof Snow in 2012. The outfit won numerous local competitions before Connor, in 2015, was among the one hundred or so singers chosen from over forty thousand auditions for the popular network talent show The Voice; he did not appear on the show because the teams filled up before he had an opportunity to audition for judges. Now twenty years old, Connor has released his first solo collection, a six song EP entitled While Everything Is Now. The original songwriting and musicianship are astonishing for such a young performer and it's all carried off with a confidence far beyond his years. He writes condensed and substantive guitar songs driven by melody, stellar vocals, and a strong verbal facility far beyond the ken of many performers his age.
URL: http://treyconnor.com/index.html
While Everything Is Now gets off to a blazing start with the song "What You Are (My Spark)". The drumming lays down an impressive pace for the vocals and other instruments to maintain, but there's energy to burn here and everyone is obviously on the same page. Connor's lyrics are plain-spoken and belted out with wide-eyed enthusiasm. He maintains the same template with the guitars on the second song "Stay", but this song is constructed very differently. It begins with a much more deliberate tempo than the opener and gradually escalates in speed and emotional power. Connor's songwriting has a real skill for exploiting the potential of each chorus and those crescendos help get the EP off to a fast start.
"Hold On" has a fine exhortative quality missing from a lot of pop rock tracks today. It's another song that coalesces into its final form rather than sounding complete from the moment it first comes rampaging off the starting blocks. The softer atmosphere of the song's beginning transition quite nicely into its much more rousing second half. The grinding arrangement and muscular guitar work on "You" makes quite an impact, but it's the thunderous and unerringly precise drumming that makes this such bombastic fun. Connor certainly gets a chance to unleash some appropriately nasty fretwork and the song packs an added wallop from those contributions. Connor makes a surprising stylistic detour with the acoustic nuance and singer/songwriter sensibility fueling the track "My Ghosts". It might make some smirk to hear a twenty year old singing about what haunts him, but this is a fine writer and a rare performer capable of convincing even longtime music devotees. The electric guitar touches are a final tasteful stroke that helps make this one of the EP's best songs.
While Everything Is Now's final song, "Best of Days" is anchored by a distinctive guitar phrase and an inventive arrangement imbuing it with a lot of drama. Connor gives a particularly energetic vocal that dovetails into the song's upbeat attitude. It's an excellent close for an album bubbling over with inspiration and creativity. It might be a relatively modest EP release, but these six songs sound like the product from a performer who's been waiting all of his life for this chance. He's got it and listeners can expect a big payoff when they dive into this release.
FACEBOOK: https://www.facebook.com/treyconnormusic
9 out of 10 stars
Jason Hillenburg