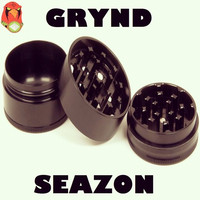 Texans from the city known as Screwston best known as Houston, had 3 young brothers come together to create a project, that would develop and expand over the years. As those years progressed so did the project, ending up to being called by the likes of The Band of the Hawk, Noah Archangel, Grynd Seazon & Noah Archangel. Which name goes with this album, well it happens to be by Grynd Seazon & Noah Archangel and is titled "Grynd Seazon".
The album itself including 22-tracks yes, that many songs but it is divided up into halves, half of the album is with vocal angst while the other half is filled with instrumental tracks. So you get two versions of the same album on one release. You get the regular version of all of the tracks, and then you get another version of those same exact tracks, being all instrumentally based. How do the different tracks hold up on this release. Well the regular version of the tracks, being a cross mix up of alternative, hip hop, and rap, mixed together, the lyrical context isn't bad, and the music itself is decent, if you aren't too keen on the rap, hip hop genre, this release may or may not be for you. Never being a fan of these genres all that much, this release by the guys of Grynd Seazon & Noah Archangel, sounded in the long run decent. At times some of the beats and tone of the songs like "Roll Up", "Mistakes", "Ride", and "Ez", were a series of tracks on this release, that were really rather interesting. Interesting as in how so, well they just persevered this tone of music that kept you the listener, listening in, wondering how it would continue to sound, how would it end, like pretty much guessing as each of these songs played out.
The songs themselves were decent quality, sounded great, a well mixed recording, the instrumentals, vocal chords, all sounded rather nicely when put together like this. While the instrumental tracks that were strictly instrumentally based, sounded just as expected, the same songs but instrumental, where again the music wasn't that bad. It kept an on-going tone of beat, that could be enjoyed, and even so had myself bobbing my head to some of the beats. Lyrical context is the typical personal matters, dealing with illness's, other personal struggles, music, life events, the lifestyle revolving around drugs, drinking, partying, etc. Just real life ordeals that us as human beings can face and deal with in our own lives and ways. The style that these guys provide, their stories is very connecting, you can relate to what is being said right away, which is a nice touch.
As far as the album goes, in full, it is a nice release, that mixes it up a bit, having their style be a lot like the likes of other similar acts out there, like Drake, J Cole, and Kendrick Lamar. If you are into those acts, then that is what you will get by listening to the guys of Grynd Seazon & Noah Archangel. Except these guys, have it their way, creating something that blends in their personal experiences, music, and so much more, it is really something you just have to jump into.
By: Natalie Perez – www.nataliezworld.com – natalieannnperez@gmail.com