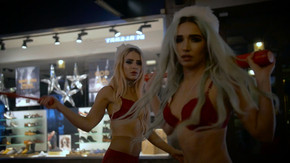 Swedish pop stars Rebecca & Fiona have unveiled the video for 'Cold As X-Mas', their new Christmas single out now through Universal.
In the video we see the girls battering Christmas presents with baseball bats in the streets of Stockholm in sizzling Santa outfits, while memories of times with a lost love play throughout. 'Cold As X-Mas' is a heart-warming, down-tempo ballad, which finds the Nordic duo reflecting on fonder times with that missing lover under the Northern Lights and mistletoe.
Regarding their Christmas single Rebecca & Fiona say, "After a day playing around in the studio with our team, we suddenly realized that we had made the best fucking Christmas song ever! It is an ambient ballad that we both feel very strongly about, musically and emotionally. This release is our gift to all of you who stuck with us this year, through our changes in genres and through our first live tour. You were with us all the time, and we wish you a great holiday season and a Happy New Year! We love you."
'Cold As X-Mas' wraps up a hugely successful year for Rebecca & Fiona, which has seen them touring across the world in support of their recently released Party Hard EP and clocking up great critical praise along the way.