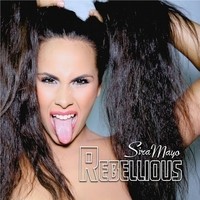 Defiant and self-assured, Sira Mayo's "Rebellious" is an anthem for the outcast. With bouncy beats dominating the proceedings, the album comes together as a coherent well-thought out whole. Melodies sparkle as they convey a sense of optimism. By far the highlight of the album are Sira Mayo's powerful, passionate vocals. Lyrics emphasize the desire and the yearn to rise above, to conquer any obstacle. The merger of electroclash, pop and EDM into a stylish whole means the luxuriant sound is easy to get lost in, with every layer of sound intermingling perfectly. Quite intricate in nature the songs simply shine. Volume is an absolute must as these are songs that are felt as much as heard.
"Be Yourself" begins the album off on a dazzling note. A carefully crafted message serves as the front and center of the song as it creates a carefree, celebratory atmosphere. Stately and grand is the playful spirit of "Fake Life". Opting for a four to the floor sound is the infectious dance groove of "Refuse to Give Up". Introspective in nature is the laid-back pace of "Me, My Love and Life". Jubilant to its very core is "Ready for Your Love". Giddy energy dominates the album highlight, the hyperkinetic work of "Keep Dreaming". Closing the album off with a sense of funk is the taut groove of "Goodvibes".
Sira Mayo's "Rebellious" taps into an undeniably strong spirit, one that comes straight from the heart.
By – beachsloth.com