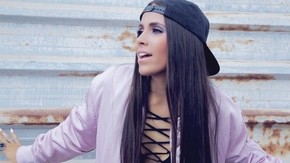 So here we are, hope you are all doing amazing today. It always feels like my mood & attitude is all the way up as we head into 2017. So much potential for a year full of new & inspiring music. I am so excited to have Sira Mayo on today as she has released some new videos to support her new album, 'Rebellious.' Before we get to Sira though lets check in on music news. First up, social music solution More Bass announced they are partnering with Tilted Globe Entertainment to provide a ticketed live streaming service for Electronic Dance Music (EDM) DJs, producers and venues – http://morebass.com. Under the terms of the agreement, More Bass will use Tilted Globe's proprietary secure live streaming technology to provide their international network of artists the ability to engage and monetize their fan base by allowing ticketed live event streaming to their fans wherever they are. In other news, Live Nation Entertainment, Inc. announced that it has acquired 51% in Secret Sounds Group, the Australian company led by Jessica Ducrou and Paul Piticco, which owns and produces two of Australia's leading festivals: Splendour in the Grass (located in Byron Bay New South Wales) and Falls Music & Arts Festival (located in Byron Bay, Lorne Victoria, Marion Bay Tasmania and Fremantle Western Australia). So now we have the pleasure to head to Spain and check out Sira Mayo. Sira is very busy these days but has been gracious to chat with us and speak on various topics from the new album, the holiday season, the meaning & video for "Fake Life", and so much more!
Stoli: Where are we talking from today and how is your week going so far?
Hello from Tenerife, my beautiful isle, one of the seven Canary Islands (Spain). OH my! It's been a crazy exciting week here . Last Sunday- 4th of December- we released our new album "Rebellious" and the music video of the first single "Fake Life"! So you can imagine how this week has been for me. Many followers, members of my family and friends had exploded into this kind of cheerleading show where they, as usual, just want to support me and my team in this new adventure. I'm thrilled and so happy for having such good life companions.
Stoli: We are weeks from Christmas & New Years 2017. How do you celebrate the holidays and what does Christmas mean to you?
This holiday season is my favorite time of the year, it means a lot to me as I love the formula: food+friends and family, so I'm getting ready for it. Also I can't wait for the singing sessions in the christmas karaoke in my grandparent's house and searching for gifts for my beloved ones as I usually prefer giving presents than receiving.
Stoli: What are 2 music goals you would like to pursue in 2017 and how do you plan to achive them?
I think 2017 is our year. And the goal that I've always had, reaching as many people's ears and hearts as I could with my music is remaining at the top of my goals' list. The way that we are planning to achieve this is working not just harder but better and stay believing in ourselves. We'll attract all the good things if we start with a positive mindset, isn't it?
Stoli: You have so much talent & beauty you could do anything. What is it about music that you chose that path and do your family/friends support your ambition?
Thank you so much for your words. Well, it all started when I was little. In my hometown, Güímar, there's a Music School where one day came a singing teacher and it was my mother who gave me the idea of starting going to singing lessons, as she was bored of listening to me singing everyday. And there you have it! I LOVED IT! Singing, acting and dancing, another magical formula that drives me wild as it is my passion. I discovered it then and I'm still pursuing it in my life. And sure! I'm lucky as my family supports me anyway, anyhow.
Stoli: What was it that happened that made you realize that you could really do this and gave you hope to reach for the stars?
Since the first moment I realized I liked it I believed I could do this for life but I accepted it with flaws and all when I was chosen to participate in a famous tv show here in Spain "Operación Triunfo" (Spanish versión of the of American Idol), where I had such a difficult time though I still believed it was worthy. In that moment I saw many people trying to fight for the same goal as me and with such good talent as well and I thought "God! This is gonna be difficult! It's gonna take a while!" but I still liked the moment, the path, the "rocks" of everyday show-life, so that's when I knew it was meaningful and worthy for me. So when I came into the TV studios for the first gala of the show I just was concentrating on the music, the song I was gonna sing, which I love (New York by Alicia Keys). And when it was my turn I flew with the notes, the melody, the lyrics… and even though I didn't do it so well as I was very nervous…I LOVED IT.
Stoli: You have your new album 'Rebellious' out now. How long did you work on putting that collection together from writing & recording?
It's been a journey. Rebellious is the summary of a journey. We've been working on it for over a year now. Lots of old and new ideas have come together and although I know it's not all we could give now it's all we wanted to say and express. Many days of preparation, since the very first base until the very last note, and all of that makes it special for me.
Stoli: Your album is up now on Spotify. How do you feel about people streaming music relatively for free as opposed to people buying the album on Amazon/I-Tunes?
If people buy my albums or singles, that's a tremendous support, if they listen to my music on Spotify or Vevo/Youtube, etc., and like it and follow my career, my music and concerts, they support my music too. The goal is reaching people's feelings and meaning something for them.
Stoli: I love your song & video "Fake Life." What does that song mean to you & how does the video represent that?
The song is poetical and we worked with metaphors and irony through the whole process of music+video. It expresses the need of sincerity and honesty in these days. I'm not talking about being negative but realistic and the need of getting rid of excuses and fake illusions when pursuing something. The music video is simple, just choreography, urban style and liberating moves in the water in the scene of the pool (which I loved). All this parts want to sum up with the idea of moving on into new perspectives and freedom of speech without getting caught in "false friends".
Stoli: Last week we saw Kanye West have a public breakdown and be hospitalized. Do you think this has to do with his fame & fortune and how would you avoid this when you hit it big in the mainstream?
Every job has its consequences and benefits. Being a famous artist or any kind of famous personality remains on the lack of privacy and the fact that even though you are out of the stage scene, all the lights and flashes follow you out on the street, in your car, in your house, with your family, friends or whoever you want to spend your time with. Famous people had made up many different and even weird tactics and tricks to try to avoid this and feel safe and still we all know it's something they end up living with, it's for me the main flaw of "hitting it big". However I believe if you can give something to the world, if you can inspire and help people to dream with any thing you do it deserves a try as it could be the right thing to do.
Stoli: When you are not making music what do you like to do?
Well, I love doing many things if they involve creating. I love cooking, drawing and reading (as it involves imagination). I also love dancing, doing the chores I gotta do while I move my body with some music is fun for me too hehehe. I also love rolling the web in search of inspiration, watching the last video of my favorite youtubers or watching movies and series on Netflix, as a conventional person would like to do nowadays I assume.
Stoli: I love your confidence & positive swagger. What advice can you offer your women & girls who are struggling and could use some inspiration & hope?
Thank you, although I think I still have some work to do on this subject but I see myself as a person who likes to dig in this kind of topic as it is something basic for reaching happiness every now and again as we could do in our day to day. I would say that the first thing you gotta do is do what you love, it may sound weird and with no connection with confidence, but it has, as I believe that when you do what you love you see yourself as a person that could give and won't waste your time doing anything, otherwise like comparing yourself with other people or stressing thinking how useless you are or how is it possible that all the wrong things happen to you. Next thing I would add is be positive and look for the good in every situation. It's all about being brave and kind at the same time, so you would see the good in you.
Stoli: What is coming up for Sira Mayo and where you @ online?
I'd love to say COMING SOON, there is more new contents in my Vevo, Youtube, Instagram, Facebook and Twitter network. And when I say new content I mean more music and videos that will try to get you and inspire you. You can find all about me on my website http://www.siramayo.com, there you can find all the links to my social media sites.
I love to hear from everybody how they like my music and videos, or not! so please leave me a message or a comment on any of my social sites.
SM – THE END for now 'cause it will continue…