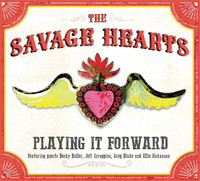 Annie Savage's band The Savage Hearts has a broadly defined mission. The five piece based out of Colorado plays traditional acoustic music in a bluegrass or honkytonk vein, but their musical purpose extends beyond merely gigs, songwriting, and recordings. Instead, Savage and her musical collaborators have an educational bent to their work. Savage is a virtuosic fiddle player and instructor alike whose Savage Fiddler method has garnered her a bevy of talented students. Playing It Forward mixes the contributions of student players and professionals alike on a set of standards and originals songs that highlight the rich musical tradition The Savage Hearts mine for artistic success, but how rewarding Savage's efforts, along with those of her fellow professionals and educators within the band, to promote musical education and preserve a style that, perhaps, might dim from public consciousness sooner if not for their efforts.
URL: http://www.thesavagehearts.com/
The album opens with a warm, pastoral cover of Jim Croce's "Age". It's a breezy take, reinvented through the musical prism of The Savage Hearts' own style, and the vocals manage to invoke their own spirit whilst still nodding in tribute to the original. "Compadres of the Old Sierra Madre" illustrates the Southwestern musical influences distinguishing so much of their music, but it has a practically jump swing driving its musical arrangement and some sharply observed tempo changes. The lively vocal from Savage gives the sometimes dark cast of the lyrics a tempering melodic touch. Playing It Forward's first instrumental, "El Cumbanchero", is another bit of Southwestern flavored country swing and the melodic strengths are so intricately layered that it's all but impossible to hear a single hole in this performance. "Heaven on Earth" is softly elegiac bluegrass, tastefully handled as always, and guided by Kevin Slick's lead vocal. He does a memorable job of summoning a wistful and never overstated bent to his voice that helps dramatize the lyrics more strongly.
The Savage Hearts' cover of the Bob Wills Texas swing classic "Faded Love" is immaculately handled. They devote the majority of their performance to the instrumental portion of the song, but the harmony vocals they offer up are beautifully handled. It's not hard to listen to this venerable entry in the history of American music and not be a little agog over how well its constructed and its satisfying to hear how The Savage Hearts notice that quality as well. Kit Simon takes over the vocal duties on "Don't Cry Blue", popularized by the Lonesome River Band, and this longtime bluegrass favorite comes to sparkling life. The album's finale "Child's Song" ends Playing It Forward with an original composition and Kevin Slick's songwriting and vocals are ideal for a closing curtain. He is joined by exquisitely delivered backing vocals and the song's message is conveyed perfectly by its lilting vocal melody. The music fades out at the conclusion and leaves a small choir of voices repeating the refrain a final time.
This is as fine of an album in modern bluegrass today and Savage's students clearly blend exceptionally well with far more experienced professionals. This pays tribute to her obvious skills as an instructor and her command of several strains of Americana music. Playing It Forward's noble mission of passing knowledge of this music on to a new generation is far from a purely academic affair; this is a vibrant collection of performance art full of soul, skill, and life-affirming spirit.
9 out of 10 stars
CD BABY: http://www.cdbaby.com/cd/thesavagehearts
Jason Hillenburg