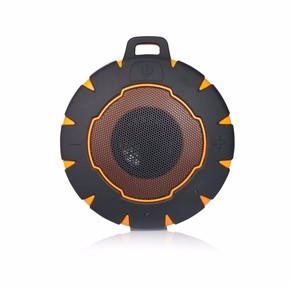 Have you seen our list of the 'Top 6 Gifts' this holiday season? From convenient technology to sweet holiday treats, they'll be a gift for everyone on your list.
1. Music Muffs— Give a gift both stylish and warm to help get through the chilly winter season. Designed to top the competition, the Music Muffs produce the best quality sound in their field. The muffs are made of premium fabric and are adjustable to ensure comfortability at all times. Complete with a slider to change the volume and smart button to select/change songs, pause/play, and answer calls, all controls can be altered while wearing gloves. Not only are they convenient but they also come in a variety of styles to ensure that you will look fashionable while feeling comfortable and warm. Music Muffs can be purchased online at www.shopyatra.com. Retail: $49.99
2. Aquatune 5712-The most compact speaker in Yatra's Aquatune line, the Aquatune 5712 was created to bring along with on any adventure. Waterproof, shockproof, and built to float, the speaker emits up to 10 hours of dynamic sound. Whether trudging through the snow or relaxing on the beach this holiday season, the 5712 will ensure that your favorite music comes along. Coming this holiday season, Aquatune 5712 will be available to purchase in all Container Store. Photo above.
3. Oojra– Oojra's premier lifestyle brand of home fragrances will transport you to a whole new world in the comfort of your own home using aromatic essential oils. The perfect final touch to any home environment, their beautiful reed diffusers provide feelings of relaxation, romance, focus and balance. The holidays can be hectic but your loved ones will love to unwind with fragrances such as French Lavender, Laos White Tea and Ginger, and Thai Jasmine Bamboo. Oojra can be purchased online at http://oojra.com/. Limited time holiday pricing $39.99. (Originally $64.99)
4. Groove Life-Groove Life will give you one less thing to worry about while active or simply going through your busy day. The innovative ring is made out of a low profile, flexible silicon that is carved with their patented design, ensuring proper airflow to your fingers. This keeps moisture out while promoting comfort, putting any fears of poor circulation out of your mind while training. The stylish ring will put your mind and body at ease. With a lifetime warranty this gift will never lose its use. Groove Life can be purchased online at www.goovelife.co. Retail $29.95
5. BOMB Coffee—A must-have for the coffee lover on your list! BOMB Coffee is blasted with twice the amount of caffeine of a regular cup of coffee. BOMB uses naturally grown, hand picked Robusta beans to ensure that quality and flavor are not compromised. The veteran owned company carefully roasts, 100% Robusta beans delivering a satisfying sip and the highest caffeine jolt available in the world. Their products can be purchased online at www.bombcoffee.com/.
6. Malt Shop Cookies–The most personal gifts are the ones of warmth and simplicity. Malt Shop Cookies provides both. Upon receiving the package, the recipient will open to a customized Gift Bag or Gift Tin with a personalized photo and message. The taste of the malted milk cookie will then deliver a forgotten flavor and treasured memory of Malt Shops, Soda Fountains, and Diners. Available in Chocolate Chip, Mocha Chocolate, and Double Chocolate, there is a flavor for everyone. The cookies can be purchased online at http://www.maltshopcookies.com/.