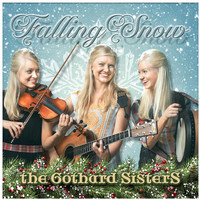 The Gothard Sisters are truly a beautiful anomaly in our modern musical world. This Celtic music themed three piece have produced five albums of covers and original material since 2010 and their latest, Falling Snow, is one of the finest examples of well-crafted Christmas album in recent memory. The sisters are top flight musicians who rely on a variety of traditional instrumentation to get their work across with a modern audience and their ever-growing itinerary of more than one hundred and twenty shows a year proves that their unique visual presentation, undeniable musical talents, and command over traditional and original material alike are striking chords with a wide audience. They accomplish none of this through taking shortcuts or pandering to a modern sensibility. Instead, sincerity is their byword.
URL: http://www.gothardsisters.com/
The album's opener is a rendition of "Hark! The Herald Angels Sing". It begins in a very atmospheric fashion, coalescing slowly, before it segues into an uptempo pace strongly invoking the Celtic influence in the band's music. All three sisters are capable vocalists, but it is the youngest sister Solana who takes the lead vocal slot, but rather than just possessing an extraordinarily crystalline and beautiful voice, she is a canny singer as well who has clearly mastered the art of singing with the musical backing rather than matching her voice against it. Many of the sister's arrangements follow the originals closely, but they are obviously very capable of bringing added flashes of creativity. The understated beauty of "Winter Wonderland" comes largely from its stripped back simplicity that helps the performance avoid invoking any of the sentimentality sometimes marring other's renditions of these classic songs. Solana, once again, steers much of the vocals, but her sisters Greta and Willow are valuable backing singers who sing along with seamless chemistry.
"Good King Wenceslas" isn't a song that everyone is familiar with, certainly not an acknowledged standard like many of the other selections on Falling Snow, but it has a compelling vocal melody and the lively interplay between the guitar, violin, and light percussion will entrance many. Greta Gothard's guitar playing has a more pronounced role on "French Carol" than many of the album's other songs and the instrumental exchanges between the three sisters are particularly striking. "God Rest Ye Merry Gentlemen" succeeds along similar lines thanks to their surefooted and inventive re-arrangement of this standard, but its crowning glory is how well they upend expectations with a handful of unexpected turns they take. "Still, Still, Still" has enormous delicacy and almost classical slant. The album's production is responsible for much of the atmospherics listeners hear, but it does an equally good job of portraying each of the sisters talents in a balanced fashion.
The closer "Joy to the World" is, naturally, quite familiar and the three piece opts for following it along similar lines, but there's a definite bounce in the step here that many other interpretations like. Let's not confuse this for a pop or rock album, but The Gothard Sisters bring enormous youthful energy to even the album's slower numbers and it helps make Falling Snow, their latest entry in the long-standing tradition of Christmas albums, one of the most original releases of its ilk in many years.
9 out of 10 stars.
CD BABY: http://www.cdbaby.com/Artist/TheGothardSisters
Jason Hillenburg