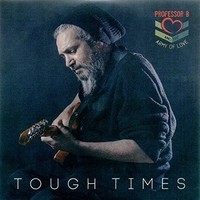 Professor B and the Army of Love create a perfect mellow atmosphere in the chilled-out vibes of "Tough Times". Lyrics have a strong sense of optimism as they focus on trying to create a better, sweeter world. Sometimes these lyrics emphasize on how bad things are and what can be done to create a sense of equality. With a sunny disposition, the songs at times recalls the best of lazy lounging summer days. At times the sound positively glisten with a sense of purpose.
Things start off on a high note with the angular guitar work and fanfare of "Skank" which opens the album off with true flair. On "Tough Times" Professor B and the Army of Love deliver an impassioned plea for people to come together and unite. Such a message continues with the clever "Sign of the Times". Downright brilliant is the easy-going attitude of "Kings Mix". A celebratory chorus joins in for the spirited performance of "Temptations". Much more minimal in its approach is the stripped-down sound of "Love Sweet Love". Offering up a slightly western twang is the rollicking rhythm of "Life Above Zero". Dreamy in temperament is the hopeful work of "A Place Beyond". Bringing the album to a cheery close is the happiness of "Key of Foundation".
Joyful with a sense of contentment, Professor B and the Army of Love create an unforgettable series of delectable pop gems with the reggae-tinged "Tough Times".
By Beach Sloth