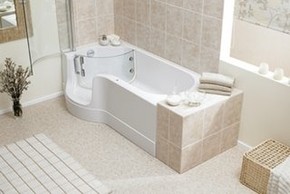 Don't you always consider the material with which furniture is made of before purchasing? The reasons for asking this is because the material of the furniture and any other home fixtures and fittings will determine the durability of the item, the cost, ease of cleaning, comfort, and the safety.
Walk in bathtubs are common among the elderly or the sick with mobility issues. Since the health of these persons is already deteriorating, the bathtub material shouldn't compromise their health. This also means that you should only buy a bathtub that has been certified to be safe for use in the house at all times.
Besides safety, you should also look at how the fixture will fit and match the rest of the house. If it's a new house, then you may buy accessories and upholstery around that color, but when you are bringing in a new bathtub, into a house people are living in, then the material and the color of the tub should match or complement each other.
In line with the safety regulations, style, and costs, the following are the main materials which make up the walk-in bathtubs:
1.Enamel on steel
The enamel on steel walk-in bathtub is also commonly referred to as the porcelain on steel tubs. They are light, making it easy to remodel them. They are also easy to clean and maintain. The enamel on steel is however highly susceptible to rusting if scratched or if the enamel is chipped.
2.Cast iron
Cast iron bathtubs are among the most durable and the heaviest bathtubs. The cast iron is usually covered with an enamel-porcelain coating. Because of the cast iron material used, a walk-in bathtub or any other bathtub will last decades in your home.
The porcelain finish makes it easy to clean the tub and you won't have to scrub aggressively to get grease or scum off the surface of the tub. Before buying a walk-in bathtub, you should consult your walk-in tub dealer to ensure that they give you all the right information about the bathtub and the materials making up the tub.
Cast iron tubs have superior heat absorption, retaining water temperatures longer than other materials. Hence, you'll enjoy a longer-lasting bathing experience. The most common cast iron tub sizes are 66 and 72 inches. Smaller sizes, such as 60 inches, are available for smaller bathroom spaces. You can choose from drop-in style or freestanding, allowing flexible installation in any space.
In addition, the main materials used also affect the bathtub's long-term maintenance. Your bathtub will deteriorate over time. Because cast iron bathtubs are made of heavy-duty metals, they can last a lifetime and are ideal for refinishing. You can have a cast iron bathtub refinished every ten years for a brand new look with the help of Bathtub Refinishing & Reglazing services.
While cast iron tubs have many advantages, they have one drawback. Cast iron tubs are the heaviest. They weigh 200 to 300 pounds, and not all bathrooms adequately support this material. However, many homeowners still consider the heavy weight of cast iron tubs a massive advantage as it defines longevity worth the price.
3.Cultured marble
This is a form of engineered stone. Crushed marbles are combined with resins resulting in a solid-surface product that resembles quartz table or countertops. Its durability, ease of cleaning, and stain resistance are provided by a clear gel coat added on the cultured marble. It is however brittle and you should not have faucets or spout fixtures too tight around the marble, as this can cause cracks.
4.Acrylic
This is another common material used to make bathtubs. It is glossy and lightweight compared to steel and cast iron. Though it scratches easily, the scratches can be repaired easily. It can be molded easily and therefore can be used for air tubs and whirlpool tubs.
Others:
Composite: engineered composite used to form the backing of the tub.




•Fiberglass: this is basically reinforced plastic covered in gelcoat and found in whirl pools and air tubs.




•Wood: gives off unique bathtub designs but it requires a sealant to prevent deterioration.
In conclusion, you have to choose properly. Tubs made of these different materials are priced differently and they will also be fixed differently. You must also consider your bathroom's design, space, and weight capacity when choosing a bathtub material to avoid future problems. Talk to a professional installer or contact reputable bathtub companies to determine your options. Compare the features, benefits, and warranty to get the most out of your bathtub purchase.
Author Bio
Juan Ricardo is an interior décor specialist and among the leading walk in tub dealer. He has vast experience and his firm has won several awards. Learn more about bathtubs by looking up his company profile on his LinkedIn page.