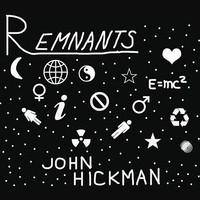 The debut full-length release from keyboardist and songwriter John Hickman, Remnants, is an eclectic collection of twelve songs with a unity of style and sound. After a successful career as an aerospace engineer, Hickman decided to retire and pursue his long deferred passion for music in earnest. Since his 2011 emergence, Hickman has released singles to great acclaim, but this sustained effort marks a true turning point in this second career. The breadth and vision fueling this songwriting helps make the claim that he's one of the best songwriters working in the indie scene today regardless of genre. He has spared no expense or pursued shortcuts in his mission to present these songs in the best possible light and has surrounded himself with a capable bevy of Seattle all-stars who are crucial in aiding the realization of the material's potential.
URL: http://www.johnhickmanmusic.com/
The track "Cascade" opens sounding a bit like 1980's Yes at their zenith. The drumming has a bombastic, big top quality and an intensely rhythmic style that keeps up its energy throughout. There's a tremendous amount of exuberance present in the song, but Hickman shapes it into something quite artful with his control of technique. The lead guitar work, in particular, strikes out from the mix with real conviction. He focuses on mid-tempo dynamics, contrasting light and shade, on the album's song "Escape". The song's methodical approach cuts against its title and implied subject matter, but Hickman does move away from the neo-prog textures hinted at on the opener in favor of a much more straight ahead rock song. "Hello Hello" is a brilliant pop rock confection with genuine musical substance that breezes past the listener with a bounce in its step. It makes great use of strong supporting vocals and the guitar darts through the melodic cacophony with quicksilver imagination. Hickman sounds like he's been singing all of his life and, while his voice isn't entirely conventional, it is more than capable of filling these songs with charisma and verve.
"Paris Is Burning" has aspects of a ballad pushing it alone, namely some evocative piano playing, but its slightly uptempo hop and strong drumming distinguish it from the typical balladic fare. It has decidedly cinematic quality earlier songs do not share and Hickman's vocal underscores that with his elongating of individual lines. Hickman revisits his penchant for progressive rock trappings on the ambitious "Remnants of the Human Race". His imagination is evident in his impressive ability to swing from songs like the earlier numbers into something like this where the lyrics are dealing with much different subject matter, yet still make it wholly credible. The cinematic quality continues on "What Have You Done", but Hickman eschews any prog rock inclinations in favor of pure theatricality. These are songs that, in a live setting, demand the biggest possible stage and Hickman delivers each vocal like his life depends on it.
Remnants nears the end with a final guitar work out on the song "While Everyone Was Sleeping". The guitars get a lot of use here from the slashing chords unleashed one after another to brief flurries of incendiary lead work that never threatens to overwhelm the song. One of the key strengths about this album is how, despite his obvious skill, Hickman's first allegiance is always to what makes the song better. There's no empty histrionics or hollow gestures on Remnants – instead, John Hickman plays with the grace and affability of someone immensely grateful for the opportunity to be heard. He's impossible to ignore.
9 out of 10 stars.
NAPSTER: http://us.napster.com/artist/john-hickman/album/remnants
Jason Hillenburg