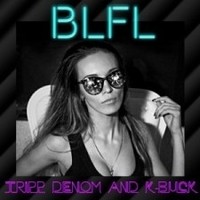 With a sly groove and a luxurious style, Tripp Denom feat. K-Buck's "Bright Lights Fast Living" is an enthralling intoxicating piece of finely crafted pop. The flow is impeccable as his lyrical content is profound, nicely offering a snapshot of what it means to be alive in this exact moment. Opting for a seize the day mentality, the way that the song unfolds feels naturalistic in hue. Attention to detail is quite profound as the way the entire piece slowly comes together is rather gorgeous. Elements of rock, dubstep, dance, and electro are brought together into a wonderful almost psychedelic whole.
The blurred vocals introduce the song as if waking from a dream. Guitars exist to give the song a light, gentle melody. Best of all though is the unstoppable power of the tight rhythm. When the bass finally hits it hits hard. Volume is the best way to truly appreciate the style as the entirety of the piece feels rather joyful in mood. A confidence emerges from the song as the lyrics explore what a certain day would be like, all the things that come together to make a day whole. Such a detached approach adds to the overall emphasis of the piece as the song's introspection possesses a kind of defiance, the defiance which helps bring the song to a beautiful conclusion.
"Bright Lights Fast Living" shows off the undeniable charms of Tripp Denom feat. K-Buck's approach to sound: graceful, tasteful, and with a message that lingers in the mind long after the song has ended.
By Beach Sloth