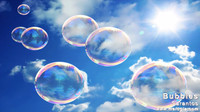 Sarantos taps into a childlike sense of wonder on the nostalgia-hued "Bubbles". Nicely anchored by a rather jubilant groove the song indie rock's leanings make it a true gem. Attention to detail is stunning: from the lovely guitar riffs to the rollicking rhythm, everything simply works. Beyond this level is the joyful usage of the sound of bubbles popping which emphasizes the giddy spirit of the lyrics. Everything revolves around the undeniably tender vocals of Sarantos. Over the course of the piece he describes with vivid description what it would be like to simply float on, as Modest Mouse once said.
The song begins on a bouncing note. How the song comes together is particularly stunning as Sarantos creates a rising swelling of a dance rock beat. With each additional layer the song becomes ever more powerful. A myriad scope of activities occurs as the song increases in intensity. Quite magnificent in its execution the pitch perfect delivery works wonders as it sprawls out elegantly. By opting for this approach Sarantos lets every element of the song truly reverberate. Easily the highlight of the song, besides the commanding presence of Sarantos, are the wonderful angelic choirs that dart in and out of the mix. For the finale of the piece the entirety of the track feels quite naturalistic as it comes to a satisfying conclusion.
Reveling in a blissful, carefree world, Sarantos creates an infinitely catchy, infectious anthem on the unforgettably sweet "Bubbles".
By Beach Sloth