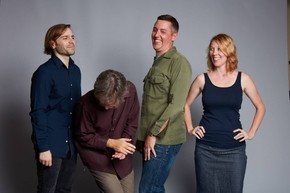 Bowie, Elton John, and the Jefferson Airplane all sang memorably about extraterrestrial journeys. Belle & Sebastian dreamed vividly of a rocketship ride, Janelle Monae rode the funk to other spheres, and Pink Floyd set the controls for the heart of the sun. Add George Pasles of indiepop group overlord to the list of songwriters fascinated by science-fiction and space travel. On "Mission To Mars," the first single from The Well-Tempered Overlord, Pasles uses an ill-fated trip to the red planet as a metaphor for romantic alienation and the limits and dangers of human ambition. And just in case the artist's message gets occluded — even temporarily — by the catchy melody and a chorus indebted to '60s psychedelic pop, Pasles has paired "Mission To Mars" with a mesmerizing clip that makes manifest the anxiety and exhilaration of life in a space capsule.
http://www.facebook.com/OverlordUSA/
overlord is a proudly independent band, and Pasles had a tight bankroll commensurate with his status as an indie artist. His flight to the stratosphere and beyond had to be shot on a shoestring budget. The songwriter and director spent hours in his childhood home in rural Pennsylvania crafting props and sets that create the illusion of newsreel footage from the dawn of the space race. overlord's songs are known for meticulous attention to sonic detail; likewise, every shot in Pasles's homemade clip for "Mission To Mars" is crammed with meaningful content. Not every modern video invites repeat viewings; "Mission To Mars" practically demands them.