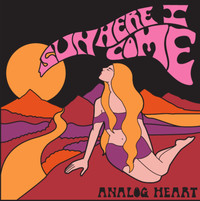 Delivered with fire and passion is Analog Heart "Sun Here I Come". By far the heart of the album are the powerful vocals that lead the songs forward. Nicely accompanying these carefully crafted narratives is an incredible band whose style taps into the best of classic rock. Over the course of the album Analog Heart ties each and every piece together. The result is simply stunning: a fully unified sound with pieces that seem to build off of each other. At times the narrative sensibilities that inform each track seem to outline a story of sorts, of a way of having a fully lived life.
https://analogheart.bandcamp.com/album/sun-here-i-come
Wasting absolutely no time is the jagged rush of "Whoa". On this track Analog Heart possesses an almost unreasonable amount of energy as its taut groove runs free. Muscular in nature is the somewhat tender "Merrimack Jane". "Let It Go" takes a slightly mellower approach to the sound as they slow things down a little bit, offering something more introspective. Bluesy to its very core is the spirited "Hurry up our Love". Playful with its nimble riffing is community-spirit orientated "Try to get Along". By far the highlight of the album is the unbelievable burst of sound on "Flickering By". Taking an intimate approach is the dreamy languid pace of "Like A Dream". Ending things with a colossal cinematic flair is the sprawling "Sun Here I Come".
Analog Heart's "Sun Here I Come" is rock done right and deserves to be played as loud as possible.
http://www.analogheartband.com/
By Beach Sloth