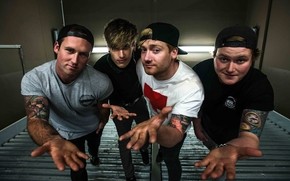 UK pop-punk outfit The Bottom Line have announced the release of their new single 'Pull Me Out', following a jam-packed year touring across the UK and Europe with Simple Plan.
Out on November 14th, the fast, furious and infectious new single is everything you want from a pop-rock anthem. With ecstatic guitar riffs, hyper drum beats and catchy vocals, 'Pull Me Out' will ignite mosh pits up and down the country.
Established in 2011, the London four-piece has been working relentlessly to bring their entertaining sound to fans around the globe, channelling the soul of old school skate punk with a fresh and modern twist. With their Another Pop Punk EP and the two LP's Role Models? and Covered In Punk under their belts, they have sparked the attention of fellow artists including My Chemical Romance's Gerard Way and afore-mentioned genre pioneers Simple Plan.