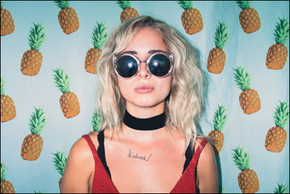 Avante Black is the project led by Ottilia Zimmerman Kjulsten, a 22 year-old Swedish native living in London, alongside fellow Swede Emil, Italian Gabs and British drummer Dean.
The band's debut single 'Drug Money', released 2nd November, is an alternative pop gem, an ambitious statement of intent which explodes with driving electronics and Ottilia's compulsive, melodic vocal.
Produced in London by Luke Smith (Foals, Petite Noir, Depeche Mode), the release is Avante Black's first since signing a global deal with [PIAS] electronic imprint Different Recordings (Anna Of The North, Claptone,Kllo). It comes as a glimpse of what promises to be a fruitful creative partnership between the band and Smith.