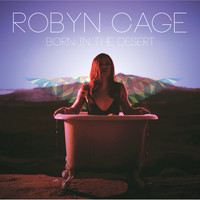 Robyn Cage's "Born In The Desert" sounds like the narration to a gentle dream. With a perfect chamber pop arrangement, the song has an expansive, expressive feel to it. Layer upon layer of sound come together ever so effortlessly. Stylistically Robyn Cage incorporates elements of classical, folk, and psychedelic all brought together under a loose indie rock structure. Over the course of the song Robyn Cage lets everything flow ever so naturally. Her lyrics have a poetic quality to them and help to weave everything into a vast tapestry of sound.
A quiet piano and far-off guitar announce the song. Languid tempos predominate as Robyn Cage's highly articulate, visual-based lyrics help to fully set the mood. Melody emerges out of the sonic ether. Floating up at first in a haze over the course of the song it grows stronger and more powerful. Out of the song a conflict emerges: one that wants to have hope in the midst of a rather hopeless situation. Slowly but surely the song grows in terms of its sheer power and scope. By letting everything evolve with a sense of purpose everything seems to be headed towards the same direction. Before the song reaches its magnificent create of a finale, Robyn Cage lets the song explore more fragile textures as the delicate melody melts away.
Elegant and tasteful, Robyn Cage's "Born In The Desert" is a luxurious song to get lost in.
By Beach Sloth