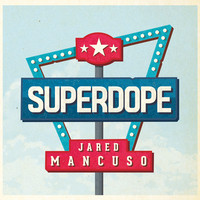 Jared Mancuso's "Superdope" taps into a playful, freewheeling kind of indie rock. Over the course of the album Jared Mancuso incorporates elements of classic, alternative, and indie rock into a satisfying whole. Reminiscent of Weezer's early 90s work the pieces linger in the mind long after they are over. The true highlight of the album are Jared Mancuso's carefully crafted narratives that dominate the album and his powerful vocal delivery. Attention to detail means that the arrangements feel perfectly balanced, with nimble guitar work, loose rhythms, and a sense of hope.
"Roll Over" opens the album off on a high note, as the riffing works wonders. One of the highlights of the album is the shaggy dog story of "The F*ck?". Here Jared Mancuso goes for a slight sense of confusion about the world, as the song grows in strength, coming into full bloom and a fantastic finale by the end. Dreamy to its very core is the ballad of "Would You". Easily the best song on the album is the title track. A punchy rhythm defines the piece, nicely accompanied by some truly impressive jerky guitar work. Laid-back and feeling akin to Cake's smooth and sly delivery is "Drive Me Crazy". Bringing the album to a close is the expansive "Water". Featuring a light and airy approach the song radiates reassurance, with the delicate arrangement feeling deeply welcoming.
With a true sense of style, Jared Mancuso's "Superdope" is possessed with an undeniable sense of joy.
http://www.jaredmancusomusic.com
By Beach Sloth