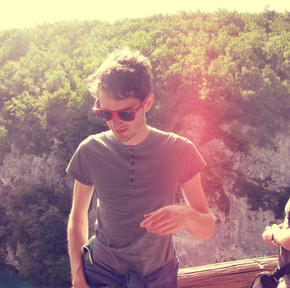 "Old Amsterdam" is the new single from Comrade Hat, aka multi-instrumentalist/songwriter/producer/composer Neil Burns, based out of Derry, Northern Ireland.
The title track from his forthcoming mini-album, "Old Amsterdam" is a lush, bittersweet ode to the eponymous city, bridging old-world nostalgia and knowing, 21st Century detail. It comes on the heels of his trip to Toronto for Canadian Music Week, where he was one of a small handful of Irish acts selected to showcase. He is set to showcase at Dublin's Hard Working Class Heroes festival for a second time this month.
This all follows a year which saw Neil's star rise considerably, with airplay on national radio North and South An Taobh Tuathail (RTE RnaG), Electric Mainline (BBC Radio Foyle) and RTE 2XM), in addition to acclaim online; Neil was selected to represent Ireland in the global Music Alliance Pact for May 2015 by James Hendicott (Golden Plec), nominations by PureM magazine for 'Best EP' and 'Best Act' and slots at Hard Working Class Heroes and Canadian Music Week.