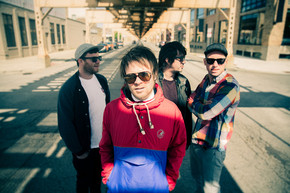 This weekend, ENTER SHIKARI shocked fans with an unexpected "drop" of a totally brand new track and video called "Hoodwinker" which received its worldwide premiere, courtesy of Daniel P Carter on BBC Radio 1's Rock Show, and then appeared on streaming and download services immediately after.
Initial recording of the track was started at the same time as January's one-off "Redshift" single, then completed during free time between summer festival performances.
A video (DIY in creation, epic in vision) was shot in August, utilizing family resources (Rob's brother, Rou's uncle, for example) and friends who didn't mind getting wet.
Photo Credit: Tom Pullen