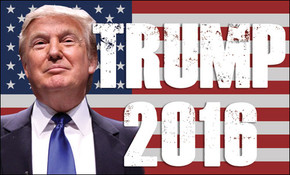 Okay here we are on October 5th and it is so good to be here with you all. Here in the US we are in the midst of a fierce election season and my guests today The TRUMPetts have no problem letting people know who they support. Before we get to that lets get to some music news. Feature.fm, the first native song ad platform, and Deezer, one of the world's leading music streaming services, today announced the formation of a strategic partnership to enable artists to promote their music as sponsored content directly within the Free Deezer platform. Available to all artists, the service guarantees their songs are listened to by a targeted audience, connecting music fans with great new music while simultaneously supporting artists with unprecedented exposure. In other news, Playlists have now surpassed albums as a format for music listening, according to a new study conducted by LOOP (Lots of Online People) and provided to the Music Business Association (Music Biz) for its members. The insight comes from "Music Consumption: The Overall Landscape," the third in-depth report to be issued via Music Biz Consumer Insights, the interactive, member-exclusive research portal hosted on www.musicbiz.org. Now to the music, and The TRUMPetts have no problem telling the world that they support Donald Trump. I give them much respect as most people are afraid that doing so can result in a beat-down. They also have put out a single/video "Trump Train." Join us today as we speak with the group about everything from Black Lives Matter, why they support Trump, what the election means, and so much more!
Stoli: Where are we talking from today and how was your summer?
Hi… actually back home ,,near Cleveland Ohio for a bit. Back & forth from Fla most of the Year recording the Trumpetts things and in contact with the Trump Campaign. Summer ?… The Summer of TRUMP. Thanks…hope yours was fab.
Stoli: The rioting in Charlotte is quite scary. What is your take on what is becoming law enforcement vs Black Lives Matter?
Quite simply… I believe the past 2 Decades of Lax Behavioral Parameters and the Political Hate Mongers ( Who we well know ) are the reasons. Political interference Prevents actual "Enforcement" That's a whole Interview in itself. Pro-Activity vs RE-Activity. Say what you will about Discipline… ( The Marine Corps does ok with it )
what is becoming law enforcement vs Black Lives Matter? BLM is seeking a CAREER..when Al Sharpton retires IMHO
Stoli: Offer us a brief history on how The TRUMPetts came to be and how did you create the name?
I do the majority of thought processes and it was a natural that Someone would come up with "Trumpetts". The Vision was an upscale Dance troop Musing "Cheerleading" concepts with a dance Gruve/ and reminicent of "The ROCK-etts" …in this time era….a Contemporary approach ( New York-Vegas)
I beat them all to it …lol / Like we were the 1st TRUMP TRAIN tune …lol ( BUT I took a gamble on Trump…by putting our time & Money where our Mouth's were. Created HISTORY would sum it up…It's only been "Safe" to be a Trump Supporter the past 3 Month's…especially on Social Media.
Stoli: Your single "TRUMP TRAIN" is going viral. How has the response been both good & bad as people either love him or hate him?
Not to be too Bold….but the tune is well constructed and produced. I also knew the'd be about 20 Versions of TRUMP TRAIN…lol / in reality there are about 30. We came out 1st as a result of being Published October 2015 .The Lyric/Narrations and again The Groove has us in a VERY Favorable position with both the Campaign and People that hear it. Many ppl that hate Trump still Compliment us….even the Rappers…believe it or Not. I get Feedback " Great tune but Wish it wasn't about Trump "… Haven't had One Negative directed at our Tune even from the opposition…
Stoli: The video is so awesome too. Where did you come up with the concept and who helped put it all together?
Thanks Much ! Although I'm Not a Videographer WE needed to convey the Trump is Winning message along with the Original Concept of "TheTRUMPetts" as a Modern Day approach to The Old NEW York Radio City "Rocketts" The Female Voice on both the Records "Simone" was Integral in the critique of my Ideas and I LOVE her Voice so I accepted her opinions. She's also more Millennial and REALLY in tune to Music. The Vid is also designed to touch the "Independent" Thinking Voters and show TRUMP Supporters are NOT "Deplorables" but Educated and Savvy.
Stoli: Do you think Trump can win in November and if so will he "Make America Great Again"?
We've been involved from Day-1 and Honestly I felt if he made it past the Primaries and first TRUMP-CLINTON Townhall…The Trump Train would be Un-Stoppable. So YES he'll Win . I've seen the steady declines…in the USA past 8 Years to the point of "SCARY" No where to go but UP. TRUMP I feel is Sincere,and that's 75% of the Battle. Yes The Momentum of the People will carry the Country. TRUMP is the Messenger and with his Leadership qualities AMERICA will once again be 2nd to None. ( A line from our "Other" Trump Tune )
Stoli: Do you feel you have found a niche that you can turn real life into music in such a fun & catchy way?
There's always a niche for a "Novelty-type tune" With the Historical aspect and Momentum…We definitely feel we've BEST said Everything there is to be said …from "Let's Vote-to "WE Won" ! There's also a combination of Song writing Formula involved…I'll be Bold enough to Humbly say "Expertise":) I approached the Hook "TRUMP TRAIN " in a way that would lead into the next Phrase,and still be the "Hook" and the Tracks are a Stadium Sound with an Old-School feel that many don't notice…they just know they Love it . (It's the Beat …lol )
Stoli: How much time per week do you devote to The TRUMPetts and what other hobbies do you enjoy?
The Trump Campaign has been My LIFE..for the past 15 Month's…
Music has been my life 4 ever… It's like IF you don't Consume yourself into a project….who else will believe You? Plus I have the Promo and the Other tune as well….and 3 Dedicated Websites… I guess we'll call the Websites my hobbie for lack of any Free Time.
Keep this quiet…but I'm an avid ( Expert ) Shooter of Rifles and Pistols. There's Science to it…
Stoli: Has the Trump Campaign noticed the song and would you play it live at a rally?
Yes… More than "Noticed" all of our work. I believe if u listen to the tune and envision the Proper time to expose it…. we may all be Surprised that all our work will more than likely be Recognized.
There are MANY Celebrities as well on certain News programs and Trump Support Groups that Love what we've done.
Stoli: For those on the fence between Trump & Clinton what would tell them?
I tell ppl daily…. You'ne NOT Voting for TRUMP…You're Voting to make Your OWN Life better. I sincerely believe that . I have over 12K invested in 2 Tunes / Promo and Travel. The Trump Train is actually the TRAIN of Love we all need so badly !
Stoli: What is coming up for The TRUMPetts and where you @ online?
The Trumpetts are on many search engines OUR WEbsite http://TrumpLatinoFever.com also as well as a strong Presence on Twitter @TheTRUMPetts as well as Myself as @TrumpFever2016 (Trump4 Women )… Hopefully "WHEN" we sign the Final Agreements The Trumpetts will be Involved in Victory Celebrations.. Thank YOU GUYZ Soooo Much for your Interest and the Opportunity to do this with Your GREAT Mag and Broadcasters. TRUMP FEVER!