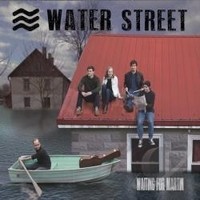 New Jersey based Water Street formed the way all great bands do – organically. The band's story began in 2011 with vocalist/guitarist Dave Paulson performing solo. Claire McNulty soon joined him as a second vocalist, guitarist, and pianist. They soon adopted the rather natural moniker of "Dave & Claire" and giggled as much as possible. The newly christened configuration expanded in 2012 into a family affair with Paulson's sister Milly joining the unit to play mandolin, violin, bells, and percussion and McNulty's father Dave contributing his skills on electric bass and saxophone. The band first adopted the name Water Street in 2013 and even that reflected the close sense of community bonding the musicians and their work – they selected the name based on a street in Blairstown, New Jersey where the Paulson siblings lived above an old warehouse. The addition of Connor Konecnik on drums and percussion in the fall of 2014 rounded off Water Street's lineup and gave the band a final piece to have the stylistic command they display on their debut collection Waiting for Martin.
URL: http://www.waterstreetofficial.com/
The ten song collection begins with the song "Better Off Alone". Konecnik counts them in and they establish a distinctive groove immediately thanks to his fantastic drumming. Dave Paulson's flourishes of light funk guitar are a series of exclamation points slipped in throughout the song and his unusual vocal accents strike a good contrast with his spot-on phrasing. "Tidal Wave" has an irresistible tempo that, nevertheless, doesn't ever quite run away with itself. It's a wise move that Water Street gives listeners a straight up one-two punch to open the album with Paulson singing the first song and Claire McNulty taking the reins for the second track. She ably handles the energy level of "Tidal Wave" and throws a considerable amount of zest into her vocal strength and phrasing. Paulson's vocals dominate "These Eyes", but McNulty joins him here as a harmony vocalist and does a fantastic job underpinning his electric guitar work with acoustic guitar playing of her own.
The electric instrumentation retreats some during the album's midsection. "Outer Space" is a perfect example of what happens when the band lightens its touch. Milly Paulson emerges as a sonic force, particularly thanks to her mandolin playing, and it's her contributions that elevate this track several notches above its already excellent standard. They invoke a folkie spirit crossed with a rockabilly greaser on "The Storm", but the one complaint listeners can potentially level against the track that Paulson doesn't possess the added grittiness needed to fully realize the musical and lyrical potential. One of the album's finest songs in both of those areas is the penultimate track "Donna Lee". The proper name title indicates, to experienced fans in the genre, that the song is some sort of self-conscious nod to traditional folk songs like "Barbara Allen" and subsequent listens bear this out. It does, however, have a distinctly modern edge thanks to the production clarity and the nearly punky energy that keeps things humming from the first note. The unique confluence of influences that go into making Waiting for Martin so exceptional will undoubtedly be refined and expanded upon – this is a band already hitting home runs and they haven't yet reached their peak.
9 out of 10 stars
CD BABY: http://www.cdbaby.com/cd/waterstreet3
Jason Hillenburg