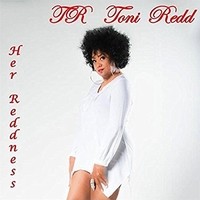 Possessing a great sense of optimism is the perfect jazz-rock fusion of "Stronger Than Before". Tying the entire piece together is the undeniably strong vocals of Toni Redd. With such attention to detail the piece possesses a late night mood, as the song positively glows. Everything comes together ever so effortlessly from the steady rhythm that holds the piece together to the strong, deep groove that stays constant throughout the piece. Melodies glisten in the beautiful piece as they accentuate the strong sense of affection that permeates the entire piece.
Beginning with a light touch the piece sets the mood before beginning in earnest. At first the sound stays true to the absolute essentials from the nimble bass to the light percussion to the gliding nature of the keyboards. Once the song grows in scope Toni Redd includes ever more atmospheric elements giving the sound a living breathing approach. Roughly halfway through the piece the many layers of sound begin to work quite gorgeously, from the sweeping keyboards to the funky guitar work that helps to punctuate the piece. Towards the latter half of the piece Toni Redd's voice truly begins to soar, with elements of R&B, gospel, and the blues tied together to make something truly affecting. By the very end of the piece the song move into a glorious rush of sound.
"Stronger Than Before" displays the immense talent of Toni Redd with her thoughtful, lovely lyricism and impeccable arrangements.
http://www.toniredd.com/
https://www.facebook.com/pages/Toni-Redd/152597528125246
By Beach Sloth