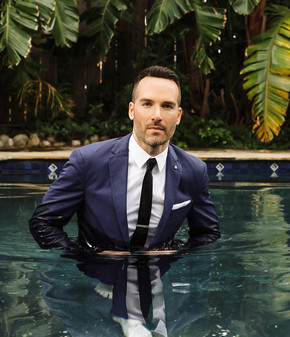 So we are so excited to get to chat with Greg Scott who has just released his 'Cali-Way' EP. Greg Scott is a multi-talented R&B/soul/Pop Singer/Songwriter/Producer and musician born to a musical family in Chico, CA. We got to get some time with Greg and he speaks on it all from being a father, the new EP, the suit in the pool press shot, and so much more.
Skope: Where are we talking from today and how was your summer?
We are in super sunny and hot Los Angeles, CA. My summer was crazy busy grinding with making new music for my EP Cali-Way! I've been working my regular gigs, making new music and raising my 2 little boys (1yr & 2yrs old) Jackson & Blaze.
Skope: Are you concerned with Hillary Clinton's health and the election in general?
I am concerned, it has been a very bizarre presidential campaign to say the least. I wish her a speedy recovery!
Skope: How much of a role did music play in your life growing up and does your family support your ambitions today?
A huge role! My dad is a singer and opened for big acts in the 60s&70s.
He still plays till this day and will sit in with me when he visits at my residency here at Mastro's in Beverly Hills, CA. Its in my blood!!
You'll have to shoot me dead to never hear music from me. My family has been 100% supportive and i wouldn't be here without them.
Skope: When did you realize that you had a real talent & that music could be a career?
When I was about 9 years old. My Dad put me in a studio and had me sing a small part on his Christmas album that they still play every holiday season in Chico, Ca, my home town. My parents looked at each other and knew there was no turning back from this point. It was definitely a major moment.
Skope: You're new EP 'Cali-Way' is out now. How long did you work on that and where did you do most of the writing & recording?
https://soundcloud.com/greg-scott-music/sets/cali-way-ep
We did most of the writing and recording in my home studio here in Los Angeles. Cali-Way came together pretty quickly once we had the concept and the single that we wanted to focus on. A couple of the songs I had in my pocket for a while, but produced everything up within a month to push it out on time.
Skope: I love the video for "CaliWay." Why did you choose that single and how did you put the visuals to the music?
We had the VP of A&R at Atlantic Records interested in it. That was the song that jumped out to him. Plus, when I play this song out everyone is always grooven to it. It really resonates with people. And, its super vibey and it just has the California chill that I love so much. The visuals came together because we knew we wanted to showcase California and my wife's family owns a costume shop in San Francisco and we knew it would be fun to incorporate the mascot heads into it. The overall concept of the video is really how everyone in our society and esp. LA puts on a mask and to stay true to yourself even admist all the pressure to be something different than yourself, particularly in the music industry, is a push for the obscene.
Skope: What does being a musician from Cali mean to you and how does that vibe influence your sound?
It's all I know and I take extreme pride in that. Cali vibe always weaves its way in because it's apart of who I am. I don't know that I can really separate myself from it. Cali embodies diversity, uniqueness, weirdness, sunshine, chill, beach, nature, love and the power to the peaceful reigns supreme here. My music represents all that is good and holy being a California native. Each song takes on a personality that resonates these themes & concepts.
Skope: Do you prefer fans buy or stream the new EP and how do you consume music?
However they want, I don't care. I just want people to hear it! I usually download my music.
Skope: I love your press shot of you in the suit emerged in the pool, what does that image say about you?
Thank you so much. I would say grown & sexy! Haha… It's been 3 years since my last release so, it symbolizes a rebirth for me as an artist.
Skope: What is coming up for Greg Scott & where you @ online?
My upcoming shows are at Lucky Strike Live in Hollywood in October and planning to play a show in the Bay Area in December. But people can always come by Mastros Beverly Hills and see me at my residency on Monday nights. See my calendar here on my website:
http://www.gregscottmusic.net
Also, I'll be releasing new music videos on my YouTube channel. You can subscribe here: https://www.youtube.com/user/gregscottmusic