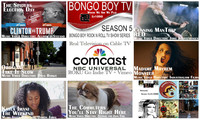 The Bongo Boy Rock N' Roll TV Show is proud to present their episode 1090 in their Rock N' Roll TV Show series, featuring 6 talented independent international recording artists in 1 special ½ hour TV show. This Bongo Boy TV produced episode premiering in September on all channels in the Bongo Boy TV National Region. For a complete broadcast schedule, please visit http://www.bongoboytv.com.
Capturing the zeitgeist of the time is the Spiders with their track "Election Day". By injecting a sense of humor into a rather difficult election to process, the Spiders really do express exactly what the United States is facing right now. Anchored by infectious riffing the song is an absolute joy.
Cunning Man Trap's "Red" rides waves of threatening distortion. Possessing a great deal of intensity, the piece taps into the misanthropic vibes of Scratch Acid with a metallic sheen. Easily the highlight of the song are the commanding, powerful vocals which serve as the song's true blackened heart.
On "Take It Slow" OddsLane create a lovely lazy sort of groove. Nicely tying together elements of the blues, jazzy, anchored by a loose sense of funk that permeates the piece. Casual to its very core the piece feels the perfect combination of easy-going with a carefully crafted narrative.
With nimble dexterous guitar work is the tribal rhythms of Madame Mayhem's "Monster". Her vocals are placed front and center in front of chaos. Madame Mayhem's lyrics are full of furious rage, as the piece careens wildly at an absolutely blistering pace.
Kyla Imani's "The Weekend" represents the best of pop. With a lush sound matching her expressive vocals, the piece unfurls ever so luxuriously. Effortlessly combining elements of dance, hip-hop, with a hint of dubstep the song is a ray of sunshine.
The Commuters dive into a tender sound with "You'll Stay Right Here With Me". Downright gorgeous the song is an ornate brilliant swirl of sound. Everything works from the understated piano to the sweeping strings.
By Beach Sloth