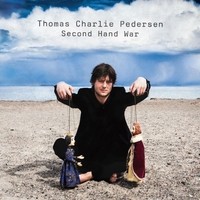 Thomas Charlie Pedersen, member of the three piece Danish alternative rock band Vinyl Floor, has released a debut solo effort that takes his songwriting in a distinctly different direction. The fourteen song collection favors the pop song hooks and melodies distinguishing his material with Vinyl Floor, but it's cut in a largely acoustic mold and pays much more deference to Americana music than any of Vinyl Floor's work. Pedersen is reaching for a rustic authenticity that he likely felt wasn't appropriate for Vinyl Floor's work, but it naturally utilizes all of the melodic strengths common to the band's work, albeit in a very different setting. The songs are recorded with pretense or tinsel, miked for intimacy, and guided first and foremost by Pedersen's clear and emotive vocals.
FACEBOOK: https://www.facebook.com/thomas.c.pedersen
The first song "High Dust Devils" embraces the language of American folk music without reservation. Its musical lexicon is equally reliant on classical instrumental tropes from the genre, but it plays credibly throughout. Pedersen's vocals and arrangement never strain for effect and, if anything, he plies his trade as a songwriter with such lean taste and poetic grace that one can reasonably question why he hasn't been cutting albums like this all along. "Appreciation Hymn" is as earnest as its title suggests, but contains a plain spoken poetic beauty that lacks indulgence and speaks directly to the writer and listener's mutual experiences. The lyrical acoustic guitar weaves a gorgeous and delicate melodic spell. "Letter from the Dead" is a knockout piano ballad with a pensive gait Pedersen never rushes and his vocal melody wraps itself loosely around the piano counterpoint while still allowing the song ample room to breathe. He switches instrumental textures some on the song "I For One" by relying on a mandolin for his sole accompaniment. The central melodic figure unrolls at a mid-tempo pace and nicely complements the memorable childlike simplicity of the vocal melody.
The title song is a brief instrumental with the mandolin returning and a gradually coalescing piano line counterpointing it before merging by song's end. It seamlessly segues into the brief, piano driven ballad "Uneasy Feeling". The song spirals out in lovely fashion thanks to its gently ascending melody that strikes a strong contrast with the overall grim lyrical content. The solidly literary qualities of Pedersen's writing, once again, stand out in these stark musical surroundings. Tinkling strings opens "Golden Age" before a careful guitar figure emerges from the shimmer. The song seems to come wafting out of a dream and the vocal reflects that with its distant ambiance. Second Hand War concludes with the jaunty mandolin bounce of "Good Ride" and the same bright melodic sheen distinguishing Pedersen's songwriting sustains its influence here. Few albums in the singer/songwriter vein will make the impact on listeners that this one will. Pedersen's songwriting gifts are seemingly effortless and he tosses melodies out like glittering confections sprung full borne from the head of Minerva. Second Hand War is everything devotees of this music ask from releases and more.
9 out of 10 stars
TWITTER: https://twitter.com/vinylfloorband
Jason Hillenburg