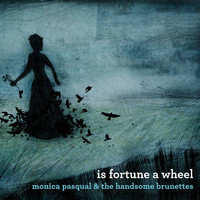 Indie Award winning recording artist Monica Pasqual presents a deeply personal album with "Is Fortune a Wheel" – a vivid, daring journey into what happens when unforgettable memories are lost by a lover whose ability to recall the past is fading. These memories, still cherished by Pasqual, are explored through song as she navigates the art of letting go. The album is a modern-day odyssey through love, pain, loss and the ultimate rediscovery of self.
FACEBOOK: https://www.facebook.com/monicapasqualmusic/
This is not a CD that passes by the ear quickly, it is a complex animal but in a good way as it builds a circle of sound around the senses. Kicking off with the sublime title track "Is Fortune A Wheel," does the business in getting the topic out of the way. It begins with a string motif to set the mood up with a great effect. But it's all built around the soothing vocals of Pasqual herself. It goes everywhere from a lovely falsetto to what could easily be added to a movie soundtrack with some cool cello and piano dueling. This is an excellent opener as it pleases right into "Swann's Way," which starts off with one piano chord before she sings and once again instantly compels the ears. It's about a meeting place and not knowing what you want but knowing when you want it.
This makes way for the more upbeat paced "Golden Cuff," which contains some great wordplay in the lyrics, and you know by now this is a quality recording with excellent material. The arrangement just flies behind her commanding up-front vocals. The mid-section in this track is of the highest musical standard, and combined with the great vocals it almost reminds of great singers like Randy Crawford. However, Monica Pasquel has an original quality all her own, in a completely different era, under a completely different genre. She mixes indie-folk with pop sensibilities with a strong element of chamber music. These are all well-blended for a pleasant audio experience.
This continues on "Wild" as she explains how two souls wound up. But the storyline factor picks back up on "1969," which finds her carrying on about that year and perhaps how innocent it was compared to how it is now, with the space program mentioned in the shape of men on the moon. Once again her amazing vocals dominate the backing track but never drown it out. You really believe her sincerity more as the CD progresses. On "Down By The Mill" it gets very chamber-folk with another sublime track with a slightly narrative vocal approach, often found on the disc. This is no less mesmerizing than any other track, as it somehow winds up a favorite for me.
While "Strings In My Human Heart" continues it's almost as if her voice sounds some ten years younger on this sweet little piano heavy track with more subtle touches of chamber between well-arranged strings and piano. This is undeniably awesome in its own right. But the next track "UmaUma" begins with some vintage vinyl crackling for a retro effect that makes way for some more great piano playing as it gets a little radio friendly on this. It's all very well produced and arranged on this instrumental piece with some nice acoustic guitar lines and cool percussion to spice it up. This is another stand out track that anyone can enjoy.
This brings on what is probably the biggest ballad flavored track, "Steam." In which a layered vocal weaves in and out of another heavily applied cello. You can't count out the chamber influences but you also might not identify with that. Either way you get a lot of everything to go around with it. I suspect fans of Monica Pasqual would find this most up their alley. It's a truly amazing piece though, hardcore fan or just catching on. And it doesn't let up one bit with "Saint In The Yard" turning out a very spiritual delivery. It keeps up with the big sound of the prior track, including some good breaks in the instrumental passages. The same level of greatness can be found on the final track "The Color Blue Is Everywhere," which closes it out with a deep sea breeze-like effect.
Larry Toering
4/5 Stars