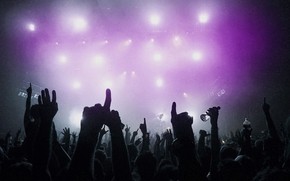 Having the opportunity to view your favorite band in person at a massive concert is sometimes a once in a lifetime opportunity for many. Ticket prices are going up, which makes the experience that much more special. In order to really make the most of a concert, there are some steps you should take.
Bring a Friend
Most people don't jump at the opportunity to attend a concert completely on their own. Most will eventually tell all their friends, spreading the hype a bit so more people end up going to the show. You can skip a step here by simply inviting a good friend or two to share in the experience and bring their own enthusiasm to the concert. Bringing a friend also means you split the cost of gas and admission.
Merchandise Table
Most concerts have some form of a merchandise table setup in the main lobby (if the concert is indoors). Seek out the merchandise table filled with goods and spend a little money to help remember the event for years to come. Most bands sell branded clothing, CDs that you can later have autographed, and any other manner of merchandise that is popular at the time.
Drink Plan
If you are old enough to drink at the concert, make sure you take extra care and control yourself. As the show begins, you want to have your cup filled already so you don't have to wait in line and miss anything. Do not wait until the opening act has already begun their performance. Alternatively, you could wait for a song you do not enjoy to begin then go get your beer, avoiding the long lines that are inevitable.
Transportation to the Venue
If you have been drinking, or plan to drink whatsoever at the concert, you should plan ahead and have a taxi bring you to the concert and take you home afterward. Some companies, like Yellow Cab, realize that it is far safer to have someone else drive if you are even slightly inebriated. Alternatively, if you are not drinking, securing reliable transportation will lower the cost of gas and help you relax before the big show begins.
Make New Friends
Most people at the concert in question are there because they truly enjoy the band playing the main stage that night. That is already one massive thing in common. Take advantage of sharing that joy and enthusiasm and make a few new friends to hang out with during the concert. Keep in touch with these individuals later to get the most out of the relationship.
Following these tips, your next concert should be one of the most memorable events of the year. Sharing the experience with another person simply makes it better. Remember to take plenty of pictures and videos with your phone, because these sort of memories are meant to last a lifetime.