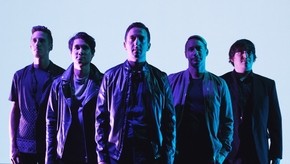 So we are back and feeling real good today on a Thursday morning. I must admit even though this is a music site I am excited for NFL football and the chill fall weather coming in. So we have an awesome band today, FIVES, but before we get to chat with them lets see about some music news. CMRRA is proud to announce that they have finalized a licensing agreement with YouTube for Canada. This marks the first major agreement for reproduction rights between YouTube and CMRRA in the Canadian territory. This is a major step forward for Canada and completely changes the landscape for rights administration in this country. In other news, Broadjam has been helping musicians sell their MP3s, promote their music, and get their songs licensed to film and TV for years, but we know that being an independent artist in the 21st Century is all about being a master-of-all-trades. Broadjam members that can record sessions, mix hit songs, create album art and posters, shoot videos, and so much more. That's why we created Musicians' Market, a place where musicians, graphic designers, filmmakers, artists, and more can meet and safely sell their music-related services. Learn more here – http://www.broadjam.com/market/. So now lets head to the Mid-Atlantic and catch up with the guys from FIVES. These guys have an awesome EP out now 'Heart & Thunder' which is well worth a listen. The guys gave me some time and we got to talk about their history, the new EP, future plans, and so much more!
Stoli: Where are we talking from today and how has your summer been?
We are based out of Baltimore, MD and Washington, DC. This summer has been incredibly busy for us. We were working as hard as possible to finish up the EP and at the same time playing a ton of outdoor festivals and shows and preparing for some music videos.
Stoli: I feel so awful for the people in Italy devastated by the earthquake. When you see such suffering how does that make you look at your own life & purpose?
It is a terrible situation in Italy. Sadly, it hasn't been covered by the press in the US very much. It seems like these horrible events of nature have been far too frequent in the past few years. It makes us want to do better for the environment and the world.
Stoli: Offer us a brief history on how you guys came together to form the band and where did the name 'Fives' come from?
The band was started by Marc and Matt about 8 years ago. Jake and Billy had played in another band together previously before joining FIVES at the beginning of this year. Nate was helping produce our new EP for the past year and a half. And after our former guitarist decided to pursue his masters degree, he agreed to join the group. The name FIVES really doesn't have an interesting back-story – we let everyone put a bunch of names in a hat, and we drew one at random.
Stoli: When you first set out in this music business what did you want to bring that you feel is missing and the people need?
Like every artist, I suppose we want to create music that makes people feel something. We try and be authentically "us" and not follow any prescribed notion of what the music industry says artists should be. We are all a bunch of guys who love music … music of all kinds and we blend the diversity of our individual tastes into our music. We aren't particularly cool. We sometimes have trouble fitting into to our local music scene which seems to be all metal, punk and cover bands. But we bring honestly and passion and we hope that we connect with people who listen to our music.
Stoli: How much time do you guys devote to the band per week and do you also have work/family/school, etc?
We devote at least 2 hours a day to band related activity. And we typically rehearse once or twice a week for 3-4 hours. Its a big commitment for everyone especially considering most of us have day jobs. Marc is married and has a 4 year old daughter.
Stoli: Your new EP 'Heart & Thunder' is out now. How long did you work on that collection and where did you record and master the EP?
We are really happy to finally have the new EP released. This album represents over a year of hard work, smiles, tears, arguments, compromises, excitement and late nights. We really evolved our sound during the recording process, so while it might have taken longer than we wold have liked, it was more about the journey for us than the ending. We recorded the EP near Baltimore at SongBuilder Studios and it was mastered by Drew Mazurek.
Stoli: I love the song "Here we Go." What is that song about and what inspired you to write it?
Here We Go was one of those songs that didn't just pour out easily. We actually had two different versions before landing on the one you hear on the EP. It was challenging to both musically and lyrically to find something that we felt was right. The song while sounding fun and energetic is a little darker than the music might suggest. Its a love song at its core, but the lyrics deal the uncomfortable and insecure parts of being in love; the feeling like it might be slipping away despite your best efforts, trying to maintain the appearance of having it all together even when things are spinning out of control. We are talking about holding on for the ride and going through the rough parts together.
Stoli: You can stream the EP on Spotify and also buy it on I-Tunes. Do you have a preference how the people hear the music and are you more into buying or streaming?
The way people find music and listen to music has changed so much in the past decade. Music downloading apps like Napster kicked off a trend that the music recording industry was never able to stay in front of. An entire generation of people are now so used to getting music for free that its making it difficult for many artists to make money from album sales. This makes it difficult for streaming services to get customers to pay more than a dollars a month. Most people just assume that musicians get a ton of money from Spotify and Apple Music – but the reality is we earn $1.00 for every 250 streams. As a small upcoming band with fives members, that is not very much. Its a sad situation really because digital streaming is far more convenient that physical media like CDs/Records/Tapes. But if you like a band or an artists, especially small, independent bands – help support them by purchasing their music.
Stoli: You guys have a strong social media presence. Who manages that and what site/app works best for music promo & reaching fans?
We split up our social media sites so that one person isn't responsible for everything. It can be a lot of work trying to keep content going out. We focus a lot on Facebook and Instragram right now, but we are working on building out our YouTube channel this year!
Stoli: Where would you like to see FIVES in 2 years and how do plan to get there?
We would love to be out touring more. We love performing for our fans and would like to get out to the west coast and Canada. We are just building up as much fan support as we can and working hard to sell ourselves to labels.
Stoli: What is coming up for FIVES and where you @ online?
We are working on a couple of videos in support of the new EP. So look for those this fall!! And we will be performing at the Dewey Beach Music Conference on Sept 22 in Dewey Beach, Delaware.
Find us online at http://www.fivesband.com
Facebook: http://www.facebook.com/fivesband
Twitter: @fivesband
Instagram: fives_band
iTunes: https://itunes.apple.com/us/artist/fives/id379837944