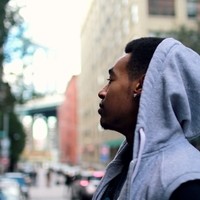 New Jersey born hip hop lyricist and musical artist Zay P spent his formative years in California and cross-continental influence shows on his material. The top class production highlights writing often quite superior to many of his peers in the genre and his vocal delivery simmers with a cool confidence that never needs to beat its chest or preen for attention. The musical backing certainly has a fair amount of deliberate construction, but Zay P never fails incorporating genuine instruments into the panoply of beats and post production effects. It gives it an impressively broad based appeal that looks to the future, present, and past alike. The atmosphere marries the gritty late night urbanity of East Coast nightlife with the less cluttered, more relaxed stride common to the West Coast style. Rap and hip hop remain, unlike many other genres, an often producer driven medium, but Zay P stands out as a truly self-made artist who maintains a steady consistency of sound through various producers.
SOUNDCLOUD: https://soundcloud.com/zaytrigga
"B.T.D." is one of the songs best embodying the aforementioned hard-boiled approach often attached to the East Coast style. While Zay P never exerts the full force of his voice to convey his narrative points, his vocal carries enough weight and authority to contrast nicely with the tempo, effects, and accompanying instrumental touches. "Hit Me Up" features guest star Darius DeFour and bears many stylistic similarities to the California style that Zay P often invokes. There's considerably more airiness in the presentation as a whole – the beats have a much more relaxed pace while still remaining tightly regimented. The production work from Beatseeking.com keeps this light on its feet and gives room for Zay P to roam and demonstrate his ability to twist lines as he likes. "Father's Day" reverts back to a much more serious mode and the relatively grim backing track accompanying Zay P's lyric underlines the dramatic atmosphere. Zay P has flashes of marvelous insight into both character and situation as a writer, but he's also an attentive lyricist who crafts ideal texts to base his performances from.
The recent spate of tribute recordings grieving over or else honoring the victims of the Orlando nightclub massacre has produced a few musical clunkers, but Zay P's reflection the tragedy moves with innate drama that he takes full advantage of. The song never arrives at its final effect cheaply – while Zay P certainly shares the same sentiments of many feeling men and women about the carnage that night, he shares it with his audience in an unique and highly individual fashion. There's a little humor sprinkled through "Zay You Will", but it's otherwise a musical expansive and dramatic statement of purpose. The same gently assertive confidence marking the aforementioned songs is in full evidence here. This emerging hip hop artist has the potential to release game-changing work. It is rare to find such a seamless marriage of the high and low in any artist, regardless of genre, but Zay P pulls it off with daylight to spare.
9 out of 10 stars.
Jason Hillenburg