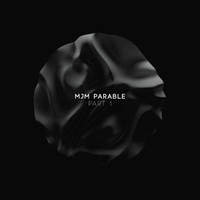 Silky smooth and with a true sense of style, MJM's "MJM Parables Part 1" feels positively freeing. Tying together jazz, dub, lounge, and R&B into a satisfying whole the piece is delivered with great passion. By far the heart of the sound is the expressive articulate lyricism. Vocals merge easily with the luxurious tasteful sound. Over the course of the collection the songs reveal a sense of romanticism, of true devotion to others.
Nowhere is this more evident than "With You". After a short introduction of street traffic, the song has a physicality to sound with keyboards that glisten. Dreamier in nature is the swirling array of color found in "Parallel". Melodies interact ever so elegantly. Here the bass is downright beautiful and it hits hard. Over the course of the piece it grows in power as the song's attention to detail results in something that has quite a gorgeous build on it. Easily the highlight of the collection the song's sense of purpose is downright touching. Shadowy in its approach is "Hold You Down [feat. Delanor Page]" whose reassuring lyricism gives it a downright inspirational feel. Playful in tone is the light funk of "Human Nature" where the samples are manipulated just right. Incorporating elements of dub is the nimble "All It Is". "For the Culture" closes the collection off on a jazz-inflected note.
https://soundsbymark.bandcamp.com/
MJM's "MJM Parables Part 1" feels positively timeless with its message of self-worth, confidence, and devotion.
http://facebook.com/soundsbymark
By Beach Sloth