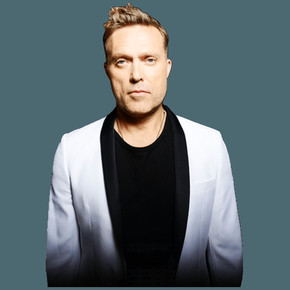 If you're looking for an established artist & producer who creates highly inventive Dance hooks & Worldly hits then Nicholas Gunn is your man! This English native living in Chicago knows a thing or two about the right melody and winning formula as Gunn has numerous singles on various music charts. Nicholas Gunn is driven and passionate when it comes to his craft of making music and so expect nothing less than high-quality audio recordings coming from this successful artist/producer. Gunn is aiming high for the sky and shooting for the stars as I am firing off questions to him one by one; he doesn't even flinch! Without hesitation he is locked in, poised and ready to roll, so I would have to say that it is a direct Hit for Nicholas Gunn!
J Rae: I read that you were born in the UK but now reside in the U.S.—Chicago to be exact. What caused you to leave England to come to the United States and why the Windy City in particular?
Nicholas Gunn: Yup, I was born and raised in the UK and actually moved to L.A. first and then Chicago. I moved to L.A. with my parents as my Dad received a job offer. I was young, just a kid. Ended up graduating High School there and entering the music business and having a successful run until I grew tired of the L.A. lifestyle. Everything is so expensive and I was spending most of my time in a car. Didn't make any sense. I had some experience with Chicago prior and wanted a better quality of life. Living downtown in Chicago, in the thick of it all, is my kind of speed. Just love it…..
J Rae: I noticed that you were classically trained at the Royal Academy of Music in London and wondering if you could tell the Skope readers more about this prestigious school and its highly regarded music programs?
Nicholas Gunn: I studied classical musical and flute (of all things). I was living in this tiny little village called Hartlip, about 50 miles southeast of London in Kent and my music teacher, Mick Judson, recommended I enroll and become a student through him. He was principle flutist in the Royal Marines Band. I traveled to London once in a while for exams but mostly was under private instruction from him. An amazing experience and I learned all the right things at the right age. I started at 6, so young! That age is key for musical development. I was lucky!
J Rae: Going off of that, I have to ask what is it about musicians gravitating toward being classically trained in the beginning stages of their musical development? Reason I ask is because it's a common, reoccurring theme I've seen many times before with artists and their backgrounds.
Nicholas Gunn: I actually don't think it's so much about gravitating toward being classically trained as it is being exposed to proper musical development at the right age. When you are single digits in age and music becomes a part of your life (in any way) connections are formed in your brain that offer an advantage. The way you listen and the way you form musical ideas becomes critical. To observe excellence and understand excellence in music is the way we pass forward the idea of excellence, not through mediocrity. To think mediocrity is excellence is simply a lack of proper exposure and understanding. It's a slippery slope because we don't know what we hear until we hear something better -or- at least understand how to hear it better! I think classical music training occurs for kids more than adults as part of a standard artistic "curriculum". However, I believe, with the right teacher, this kind of appreciation can happen anywhere and under any curriculum.
J Rae: It looks as though you specialize in the areas of World and instrumental music and have been a best-selling artist in these genres. Congratulations on that but wanted to ask what attracted you to World and instrumental music to begin with?
Nicholas Gunn: When I first started, instrumental / world under my full name, Nicholas Gunn, it was a hot genre. I was primarily a flautist / producer and the genre was right up my alley. Being classically trained I already had an advantage in producing instrumental music that was deeper and more textural. There were chains such as Natural Wonders and Nature Company that had about 3,500 stores (between the two of them) at all the high end malls. They selected about 20-30 titles and they would sell ridiculous amounts! I had the #1 and #2 record in those chains for over a year and sold tens of thousands of units every month! I still continue my Nicholas Gunn instrumental works under electronic / ambient but those days of selling big units are long gone now, for everyone!
J Rae: Being a multiplatinum selling music producer, what is the secret to your success in this area? Any valuable or helpful tips for individuals maybe thinking about pursuing a career in music production?
Nicholas Gunn: Memorable, lasting, reoccurring melody! There is little else to say about this….If you put in your time and create exceptional productions that embody these basic principles then you have real value in your music. It's the top line, lyrics and melody supported by a great cast of production and instrumentation that creates memorable music. I have a funny term I use: "Barely Copyrightable". This means that certain tracks in certain genres today are barely copyrightable because they place so much importance on just the beats and sounds that really, in essence, these tracks have little long lasting crossover value. The track becomes sound design rather than hit-driven music. There's nothing wrong with that of course, but if you're going to shoot for the top, why not make it count…..That's what I say.
J Rae: Can you tell the Skope Universe more about your label Shotgunn Productions and how that originally came about?
Nicholas Gunn: Shotgunn Productions, Inc. was actually born in 2012. I had a previous label, Gemini Sun Records, that was a victim of the closing down of record retail around 2009. That was a nightmare and something I never want to do again. I had 75 plus artists and several hundred titles under Gemini Sun and the label was a player at big box retail. The writing was on the wall and it was impossible to transition that label out of those times. Today, Shotgunn Productions, Inc facilitates the distribution of my artist works, produced works and has a publishing arm that monitors that portion as well. Almost every artist needs to incorporate an entity that can control the distribution of their content properly, it's simply part of the process as you grow…..I keep it extremely simple with Shotgunn. I focus on content we control and own all rights, unless it completely makes sense otherwise…There's not enough skin in the game anymore to promote something you don't own the majority of….
J Rae: How do you personally feel when you write a great song for yourself vs. writing a hit song for another artist/band? What are some differences and similarities between the two?
Nicholas Gunn: There is no difference for me with writing; the feeling is always the same. A great song and the development of a great song always comes from the same place. Writing music is an insanely passionate process and it's hard to have one foot in and one foot out with anything I write. I am always all in or I'm not doing it at all….The interesting part comes with the production of the song. The important thing to note, and this comes with time and experience, is to understand producing marketable music that's a good fit for the band or act. Vocal tone and range of the singer are critical factors in writing pieces that are in the right key and range, for example. Choices made in instrumentation, mixing etc. are all critical factors in making a well written piece highly commercial and sound right. You can easily ruin a great song with bad production. In fact, and I might regret saying this lol, but many young A&R people at labels can't hear past bad production. Their ears are trained to adhere to trends, which always tends to be in the production rather than the song. So if there is a good song underneath a poorly produced song, it may get lost….Just sayin'.
J Rae: Are you currently working with any music acts that you feel have that special, unique brand of style & sound to make it big and stand out in a crowd? Please do tell!
Nicholas Gunn: I am constantly doing a slew of production work for clients including a new deal I just signed with Next Music in L.A. which will include remixes for their high profile clientele – stay tuned! I just wrapped a long development project with a new act (We Are) Nexus and achieved a #40 Billboard Dance Track, a #13 Billboard Dance Club Track, a Top 100 iTunes single with them straight out of the box. I am also highly focused this year on two of my own brands I am involved in: The development of an ambient / electronic series of recordings under Nicholas Gunn titled 'Under the Influence of Music' and a new dance / pop single titled "Those Summer Days" under my own Nick Gunn brand. I see a major advantage in using the new model of producer-based tracks using featured artists, so the focus will be there mostly over the next year. It has the most value and up side for me.
J Rae: What's one interesting fact about yourself that the Skope audience would find fascinating beyond belief and maybe something you've never told anyone before?
Nicholas Gunn: My normal day. My life is very 6-6. After all these years I learned that if I want a social life with my family and friends (who are mostly not musicians or artists) then I need to keep normal hours. There's this idea that most of the music world is partying or creating music at 2am. No freakin' way….I am up at 6am…emails and paperwork until 8:30am. Workout and run 4 miles. Studio until 6pm. Unless I am out on the road supporting something or traveling for business I am extremely predictable and you will know where to find me….
J Rae: With it already being August and summer 2016 just flying by, would you be so kind as to provide us with a cool, summertime expression and/or quote and what are your favorite summer pastimes? Help us keep the spirit of summer going!
Nicholas Gunn: My summer mantra: "Those Summer Days"
I drove the hills a thousand miles
Through endless days and sleepless nights
No reason but to see your smiling face
Above you know amongst the mist
I'm where we stood where we first kissed
I'm floating at least five feet off the ground
J Rae: Anything new in the works and moving forward what can people expect to see from Nicholas Gunn and Shotgunn Productions?
Nick Gunn: Confirmed for this summer, expect these projects:
Nicholas Gunn, 'Under the Influence of Music' listening party; September 15th, 2016
Nicholas Gunn, 'Under the Influence' of Music, The Complete Series: September 16th, 2016
Nick Gunn, "Those Summer Days" (feat. Jaik Willis): TBD
Nick Gunn, Praise You: TBD
Jacquelyn Santo, The Sweets (Nick Gunn Mix): August 19th, 2016
http://nicholasgunn.com/
http://www.shotgunnproductions.com
By Jimmy Rae (jrae2@att.net)