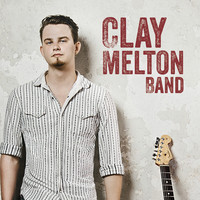 You have heard it so many times from me, as time goes by, musical acts these days are in some sort of utter need of blending different genres together, and while there are times that's good and the final product is something beyond awesome – sometime, they just get lost in the sound and can get out of their own mess. That's why it takes certain skills to master this craft. Now, on the other side of the spectrum, there are these purists which even though they add their touches and play around with other styles, they tend to always hold a sort of solemn respect for X genre. In this last category we find Clay Melton and his band.
URL: http://claymeltonband.com/
His self-titled EP kicks off with the bluesy, hard hitting "Tonight" where Clay's melodic vocals blends with the fast-pace drums and energetic overall music. "Home" is a very tricky one, at first Melton starts with this cool acoustic riffs and when you less expect it, the massive guitar riffs makes an appearance, Clay starts roaring from Chorus to verse and it progressively turned into one of the best tracks off the album. The final two songs follow the same structure, especially "Stop and Listen". The way how these three young kids deliver their music is outstanding, we've seen how many legends are losing their touch but luckily the music scene is far from fading away and just like news shows us the darkest side of human kind giving us a twisted vision of our world, mainstream music might give you the impression that the scene is going through its worst time. However, I am happy to say that there's still hope, and Clay is the perfect example. You can feel and believe every word Melton sings, he's not just a great singer but a genuine songwriter.
As you might suspect by now, there's nothing bad or negative I can say about these kids. While "Tonight" and "Remember" sounds almost the same and they kind of lose me with that, the song wraps up in such an emotional driven way that I swear I was about to drop some tears of joy and excitement, which in my seven years as a reviewer, it has never happened to me. If you get to watch the band's latest video for "Home" as I did, then it shouldn't come as a surprise I was feeling that way because their stage presence is magnetic and all that translates into their music.
Overall, for fans of classics like The Door, The Beatles to modern acts such as Brand New, Thursday and Taking Back Sunday – this is an album you MUST have in your hands and listen immediately. It ain't flawless, but the little defects are overshadowed by the band's talent, especially the star of the show Clay Melton though as previously stated, this doesn't mean the other doesn't have their own time to shine. In short words, this is hands down the best album in more than a decade.
Rating 9.5/10
I-TUNES: https://itunes.apple.com/us/album/clay-melton-band-ep/id1113798955
by RJ Frometa