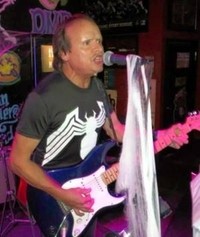 The Spiders are led by Lead Guitarist and Vocalist, Nick DeStefano who has teamed up with John Henderson on Bass and Nestor Arcelay on Drums, both longtime veterans of the NJ club circuit, this power trio has spent the last few years developing a very loyal following, and they hope with the release of their powerful new single "Election Day" they will get the mainstream exposure they truly deserve.
URL: http://www.thespidersband.com/
The first thing I thought was, not another political song. But considering the current election process and who's running, it's not a hard subject to write a song about, in-fact it leaves much wide open to sing about. And not being exactly new to the Spiders made it all the more-easy to get on board with. Because what they have done here is a pretty big move away from their overall sound to come up with an accessible and relevant track which is perfect for a promo video. The track begins with a searing guitar riff that goes well with the opening video sequence of the two opponents going at each other at their podiums. This sets the tone right up and the vocals come in with a very anthem like approach.
These two facing off is a show in of itself and makes for some good lyrics on the subject that most will relate to somehow. And the trio handles it with flying colors, with a shouting chorus that just works. The video sequences are just pictures of the two mixed with other examples of the madness. With a track that pretty much nails everything between the rock 'n roll and political landscape, as they did no wrong here. It's well produced and very cutting edge for what it's worth, backed by some great guitar with a nice musical mid-section. The chunky riffing reminds of heavy metal, as the rest of the track maintains a straight-forward rock vibe.
And those vibes really pick up during said mid-section with a great melody that carries it. This is an equally featured aspect of the song as the vocals/lyrics and just as important to them as the subject matter. It's obvious they were trying to say something on both levels and came away with no flaws. There is just something right about this, and the message once again is to get out and vote, but to rock while you're at it. The message never falls short in the process of getting both it and the music across, and it takes the band a step further as they progress from their previous material, which is also very good. But it does have me wondering why they don't make full albums, although either way they're great at what they do.
But that also takes nothing away from this as a single. It stands on its own two feet that way and should break a lot of ground for them as the months go by and the election actually happens. You can't get away from the subject of the song, there wouldn't be much to rate and/or describe if it were not the case. It's also important to notice how no sides are taken and both are seen for their less than scrupulous tactics and how the public is left with the same old limited choices, typically found in US elections. But the song is also good itself, you just can't make your own meaning here, like a lot of songs profess. So, there is not getting around the subject no matter how you slice it.
Say what you will about the election, either way this rocks and sends a clear message to get out and do one's part and get involved by going to the polls. The Spiders aren't that overly serious in their delivery, any more than they usually are, but this does cover an important subject and once again they get it across in a playful sort of way. Nick DeStefanos vocals are loud and clear but not menacing or negative. In closing this song and video do the business for what The Spiders and their fans are both thinking and doing, as well as being a cut above the material on their last release. It's all tastefully done and precisely delivered.
I-TUNES: https://itunes.apple.com/us/album/election-day-single/id1126045117
Larry Toering
Score: 4/5