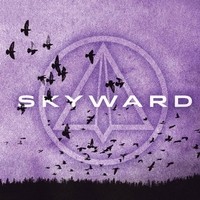 Hailing from the mountains surrounding Harrisonburg, Virginia, the four members of alternative rock outfit Skyward initially met during their tenure at James Madison University united by a common artistic vision seeking to combine enormous rock and roll guitar with melodic and electronic influenced pop. The added factor in this mix, keyboardist and vocalist Anna Breeding, gives the band an unique flavor setting them apart from their peers without ever making them seem too precious. The dozen songs on their self-titled debut are often glossy and chaotic tracks, but none of them ever abandon songwriting fundamentals in favor of gimmickry or cheap pandering. These are ambitious songs remaining accessible throughout.
URL: http://www.skywardband.com/
The album opens with "Daily" and, initially, new listeners might deem them as much more progressive minded than alternative or rock. The theatrical qualities are difficult, if not impossible, to ignore, but they are underlined with fleet melodies in an airy arrangement capable of playing grandiose without ever coming off cluttered. The brief first song seamlessly segues into the second track, "Casualty". While vocalist Jonathan Huang obviously occupies the prime singing slot in the band, keyboardist and second vocalist Anna Breeding makes the first of her many immeasurably valuable contributions to this album. The song's most spellbinding moments vocally, however, come when Huang and Breeding's voices meet. Guitarist Jordan Breeding's presence is rather strong as well. His brittle but highly energetic riffing contrasts sharply with his eminently melodic and even lyrical lead work. He has a rare gift – everything he plays makes sense. "The Floor" begins life as the album's first outright monster rock song, but it shifts by its midway point into some of the expansive textures utilized so well in the first two songs. The rock half, despite its crushing whiplashed guitars, never completely sacrifices a discernible melody and this fact helps make the mid-song shift quite a credible experience.
The tense and sparse opening to "Animal" turns into a truly unique experience the moment Anna Breeding's shimmering synthesizer work makes its first appearance. Huang and Breeding's voices mesh exceptionally well again, but there's perhaps too much post-production effects applied that might slightly obscure the performance quality for some. The latter half of the moment has its share of peaks. "Now" embodies the urgency implied in its title with some chaotic and very muscular riffing. Unlike earlier rockers that saw the band changing things up half way through, "Now" steamrolls the listener quite effectively. "Giving Tree" is a surprisingly gentle and effective ballad, presumably inspired by the Shel Silverstein classic, but Skyward can't resist the big crescendo and they deliver a five star finale for the song. The album's closing track, "Drag Me Through", is an anthemic curtain call exploring themes of surviving adversity with the ultimate hope of emerging triumphant. Huang and Breeding combines forces once more to deliver a devastatingly rousing reading that the band matches. Skyward are reaching for something new on their debut and many of their efforts are resounding successes. Even the tracklisting's lesser efforts are distinguished by a rambunctious attitude refusing to accept outright conventionality. This is truly a band to watch in the future and hear now.
9 out of 10 stars.
YOU TUBE: https://www.youtube.com/watch?v=od0cAcVTkh8
Jason Hillenburg