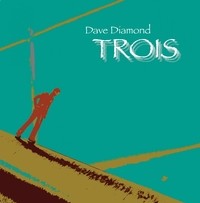 Jack Johnson, John Mayer, Jason Mraz – they are all part of this group of singer songwriters that even though they aren't by any means what we would call "Guitar Heroes", there's something about the way they command on stage and their sound that people can't help but to enjoy and be delighted to. Since the inception of these three, many others like John Butler have been jumping on the same wagon. Another act you may not be so familiar though, and that brings out some fresh air and an eclectic touch to the scene is Dave Diamond whose back with his new album Trois.
Right off the bat, you press play and "All Good Things" turns your moody day into a happy humpy week with its upbeat guitar melodies, the rock organ elements that makes you feel as if you were both in Church and a Bar, it taste like Country blended with Tom Petty. Proving he ain't no one ponny trick boy, "Breaking Hearts" changes the tempo and goes for a fast-pace track filled with powerful vocals, very tropical (as in Bossanova) guitar riffs that makes you feel as if you were at the beach in Rio de Janeiro, enjoying a piña colada. The rest of the song keeps improving and Diamond shows no sign of stopping and keeps playing with different styles on each song making this perhaps one of the most eclectic records of 2016.
http://www.davediamondmusic.com/
There's really no negative thing to say and if, after listening to this material you find some flaws then you might go and check yourself with your doctor because really there must be something wrong with you. Dave Diamond music goes beyond music taste, this is an album that can easily appeal to anyone from metalheads to hipsters and people that aren't signed up to a particular culture, almost like the Beatles. Speaking of classics, throughout the album you can hear some of that particular vibe that made early 60s/70s music so awesome, it's like Diamond found the way to bring bang that awesome music from those days, add some modern twists into it and give its own touch at the same time. In fact, after you listen to this record it made me wonder how he still an unknown act and that's when you realize how cruel is the music scene, or rather say how small and limited it is.
Wrapping up, as you can clearly read throughout my entire review this is a MOST listen album. The way Dave delivers on every song, his skillful guitar playing and his charm that translates even on those tracks where he sings about some breaking and hurtful moments of his life. For this, and so many reason you can't one minute longer and head over to buy your copy. I am telling you, sooner or later this guy would be playing big arenas, doing one of those cool GRAMMY performances along other legends and really, the sky is the limit.
Rating: 9/10
YOU TUBE: https://www.youtube.com/watch?v=SnaCxc0nVls
by Rafael Jovine