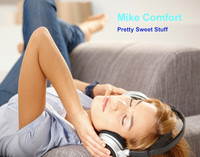 With a true sense of emotional honesty is the heartfelt work of Mike Comfort's "Pretty Sweet Stuff". Mike Comfort taps into the sweet sound of 90s alternative rock throughout "Pretty Sweet Stuff". From the fuzzed out guitar to the powerful rhythm section to the strong vocals, everything works. At times Mike Comfort touches upon the same sort of feeling that Archers of Loaf perfected with their song "Web in Front". Other moments feel akin to the best of Weezer's "Blue Album". Throughout it all what ties the entire album together are the clever lyrics which adorn each and every song.
"Disarray" starts the album off on a high note with nimble guitar work and an unstoppable rhythm. On "Fall On Me" Mike Comfort sings with passion as the sound's all-encompassing spirit rules over it all. Nimble guitar work defines the delicate arrangement of "Here With You". Opting for a stripped down approach is the intimate, folk-infused "Empty". A phenomenal build up helps to make "A Reason" one of the highlights of the album. Combining elements of electronic, classical, and pop into a satisfying whole is the tender spirit of "What It Means". Possessing great energy is the ambitious "Whole" where Mike Comfort balances the quiet and the loud, the restraint and the chaotic. The closeness of "Don't Change Your Mind" brings the album to a satisfying conclusion.
Mike Comfort's "Pretty Sweet Stuff" is smart, insightful pop music with true spirit.