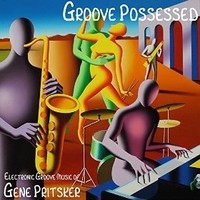 Are you ready for a game-changing, trend-setting record that doesn't play by conventional rules or standards? If you said yes, then 'Groove Possessed' by Gene Pritsker is your ultimate destination as Gene is your musical wizard with plenty of tricks under his sleeve. I was introduced to Gene's eclectic nature back in 2014 when I had the pleasure of reviewing his album 'Days' under the band name Sound Liberation: http://skopemag.com/2014/03/24/sound-liberation-days. It was a liberating listening experience to say the least as I heard so many different styles being gelled together to make up one unforgettable mix. Much of the same can be said on Gene's new release 'Groove Possessed' as he continues to push musical boundaries by creating compositions that are like no other and can't be categorized. The beauty of Gene's music and the magic behind it is that you're getting a healthy 'n' hearty mix of elements & styles that can't be contained within a box of the same old, same old.
'Groove Possessed' was recorded, mixed and mastered by Gene Pritsker at Noizepunk Studios. Gene also added in guitar, vocals, bass and synth on select tracks plus he had a full cast of super talented instrumentalists and singers that helped make this project a special one. This album contains 17 tracks that Gene has been working on for the past 15 years so a labor of love for sure. 'Groove Possessed' centers around recorded electronic music that will simply blow your mind and excite your eardrums. You'll hear pockets of rock, pop, classical, symphony, World music, jazz/jazz fusion, hip-hop, funk, dance and everything else in between from here to the sun.
The album starts up with a song titled "My Heart Goes" that will make you move & groove to an out of this world/hypnotic noize that's fully equipped with contagious beats. This opening number will make your head spin! Next up you're given crystal clear vocals and rock-nasty guitar riffs on "Cold As I Am" and then get ready to play and jump from wall to wall with a bouncy ball beat on "Circuit Red". Have a funky-fresh time with a dose of hip-hop flavor on "Camus Absurd Man" and then strap yourself in tight for a time delirium ride that offers plenty of twists & turns and pure insanity on "Fast Unseen Reality". Prepare yourself for a violin extravaganza with intricate hooks & stylings on track 6, "Water Possessed (After J.S. Bach)" and then tone it down with a slower-tempo and deeper-rooted texture on "JUST". Take in a fun, upbeat & happy-go-lucky vibe on "Every Time I See You Smile" and then flip the coin to a whole new world of pandemonium unleashed on "Paradoxes". I can't help but picture and envision the famous Mad Hatter character having a picnic and drinking tea to this eccentric mix of "Paradoxes". Step into a primitive land that is Gene's jazzy jungle on track 10, "Illusion Blue", and then gather up some clues and thoughts on "Idea Through Desire" with its mysterious quality. Bring it back with a cool, retro sensation titled "KLAIM" that has the skillful Chandra Rule killin' it on vocals with her precise & soul-induced voice. Track 13, "Certain Lightness", offers up a chilled-out, mellow aura with distinct waves of guitar and drum playing hitting you. Rolling along, you have yourself a super slick sound that glides smoothly on the song "PER" and then soak up the summertime slow jam titled "Cool It Out". You'll feel like taking a nice stroll or cruisin' to this jazzy melody where Gene is strummin' away on guitar like one possessed man. As the CD comes to a close the listener will be surprised once again with a spaced-out, intergalactic frequency that's reaching for "The Outer Limits" on track 16, "Feline Black". The closing number is called "Fades to Debussy" and contains classical backdrops with hip-hop flavor that sounds oh, so good.
Gene Pritsker's inventive and eclectic vision has come to light on 'Groove Possessed' offering the listener a one-of-a-kind experience. This album says the hell with mainstream music and pigeon-holed genres and hello to a fresh, innovative approach that is freeing. Every song on 'Groove Possessed' has its own identity and feel that will have your senses running wild. You will receive professionally-sound, well-designed compositions that Gene carefully and intricately created one by one. In meticulous fashion, Gene Pritsker gives to you recorded electronic music that can't be duplicated. If you're looking for something completely different and want to give your ears an enjoyable workout well then 'Groove Possessed' is your ticket.
https://www.amazon.com/gp/product/B01HP2YS1M/ref=dm_ws_sp_ps_dp
http://www.genepritsker.com/
By Jimmy Rae (jrae2@att.net)