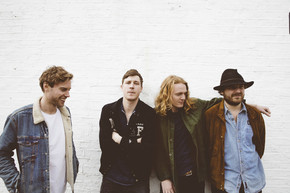 PALACE's latest release 'Have Faith' is the second track to be taken from their hugely anticipated debut album 'So Long Forever'. According to the band the song, "plays with the idea of a kind of self analysis of one's emotional strength, but it's also addressed to someone else. It's that need to find a foundation of confidence and belief so that you can both grow as people – that you need to be strong for each other, and not self sabotage yourself on a daily basis. It's the everyday struggle to find strength based on a lack of faith."
Lead single 'Break The Silence' received its first play from Radio 1's Annie Mac, swiftly followed by Huw Stephens and Phil Taggart, 6Music's Tom Ravenscroft and Radio X's John Kennedy and Maz Tappuni.
Palace's first show of 2016 was at the ICA in June and, just like their show at Scala last October, sold out at speed. They have just announced a November UK tour to coincide with the release of 'So Long Forever' on 4th November that includes a London date at Brixton Electric on 23rd November. Full details below. Ahead of this they will be playing Reading & Leeds festivals.